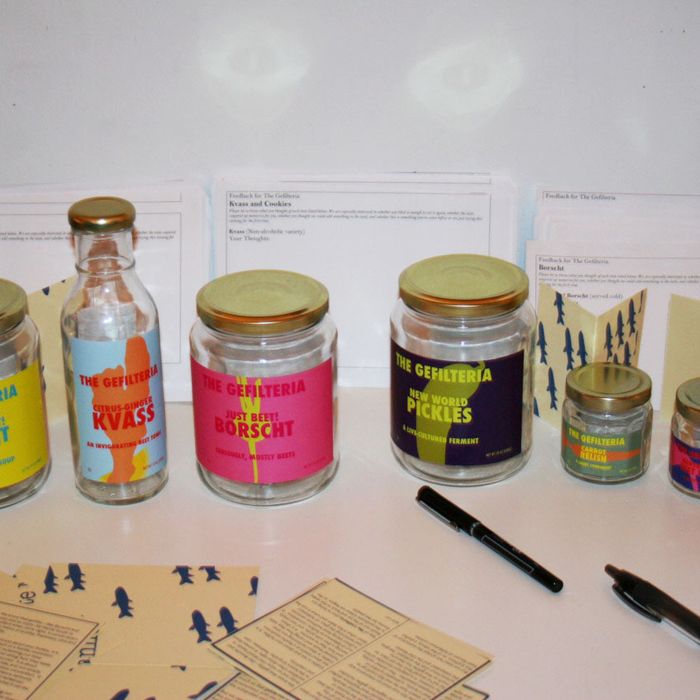 A sampling of Gefilteria's offerings.
Photo: Erika Velazquez
The Jewish-food revival just keeps growing — first Kutsher's Tribeca, then JoeDough, Jack's Wife Freda, Zucker Bakery, and soon Mile End Sandwich. These places have been asking the question of whether traditional foods like gefilte fish and latkes can successfully be made over for a new generation of eaters, and this weekend, three young Brooklynites will ask the same question with the launch of Gefilteria. Jeffrey Yoskowitz, Liz Alpern, and Jacqueline Lilinshtein dub their venture a "pushcart start-up." The plan is to peddle sustainably sourced, artisanal Jewish foods like gefilte fish made with pike, whitefish, and salmon; kvass, a fermented drink; borscht; horseradish; sauerkraut; black-and-white cookies; and matzo.
"I was tired of this food that I love being so misunderstood," said Yoskowitz, who formerly worked on an organic Jewish farm in Connecticut. For those who want to try their hands at making gefilte fish this season, Gefilteria will sell DIY kits for that purpose, with all the ingredients, a recipe, and a "Geflite Manifesto," which they hope will "re-inspire people … to reclaim these old world foods," Yoskowitz tells us. The company officially launches this Sunday with an event at Smooch in Fort Greene (details here). Orders can be made online for select items to be delivered just before Passover. Come late spring, Gefilteria plans to debut their full line of food at Smorgasburg and the Hester Street Fair.