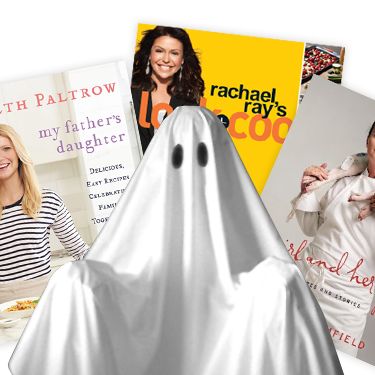 Ghostwriter-gate, which, as you know, started with an article in the Times about writers who help cooks with cookbooks, only to spiral into Gwyneth Paltrow and Rachael Ray in manic fits of defensiveness, has kind of turned into one of those those epic temper tantrums where no one even knows what they're fighting about anymore. That, of course, didn't stop a few Food Network stars from stirring the kettle a little bit last night at the Hunger Hits Home screening.
Pat Neely, anti-ghostwriter: I believe that true people who know Pat and Gina would immediately pick up on someone else writing for us or doing the work. You have to be passionate. I don't believe in it.
Alex Guarnaschelli, pro-ghostwriter: Chefs are not always writers! And that's not something chefs should be persecuted for. If anything I commend people that seek help with the things they feel they need help with to express their ideas clearly in a really good cookbook. That's all that matters.
Amanda Freitag, pro-ghostwriter: Chefs these days are asked to be everything. We used to just be chefs who cooked and we created delicious food for people. Now we not only have to be business moguls and chefs and in our restaurants every evening, but when we're writing a book and we know that our writing skills aren't up to point, then we're going to get a ghostwriter to write with us.
Geoffrey Zakarian, super-pro-ghostwriter: We're cooks. We supply the recipes and we have a story to tell, our family, our life, we went to France … we don't sit and write that stuff. We tell the story, and then they put it together and edit it. It takes two years to put all these recipes together. It's a lot of work. We all need help. We don't take our own photographs either. We hire a photographer to take our photographs and that guy is listed too!
Earlier: At Least Ghostwriter-gate Helped Rachael Ray Bond With Gwyneth Paltrow