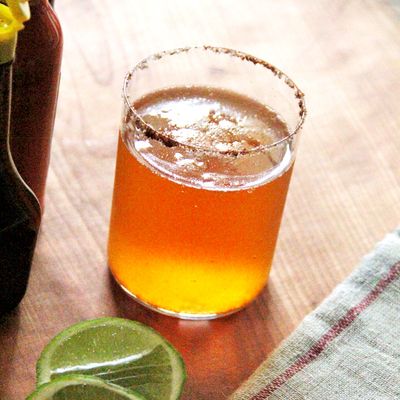 Maggi makes a mean Michelada.
Photo: Ian Knauer
If you've ever been to just about any great dive in Mexico, you've seen a bottle of Maggi Seasoning sitting on the table next to the salt. The same goes for cafes in Vietnam and China. Bottles of Maggi have been a staple in many cuisines for over a century, but interestingly, the actual product hails from none of those places. The sauce-bullion-noodle company is based in Germany, and was originally founded by a Swiss, Julius Maggi, the son of an Italian. Maggi is an international sauce of mystery. But what is it, exactly, and why is it so popular in so many countries?
Here's why: It's an absolute umami bomb. "Maggi has a lot of glutamic acid in it which makes things taste richer and meatier," says New York chef Alex Stupak, who uses Maggi in the pickling liquid he makes at his two Empellón restaurants.
Stupak is hardly the only chef that takes advantage of Maggi's ability to pump up flavors. At Super Linda, the kitchen serves a delicate tuna ceviche with cucumber, orange, and peanuts — all made more savory through the addition of some Maggi. Roberto Santibanez of Fonda likes it in Micheladas (he also once reminded me that the seasoning sauce has been part of the Mexican flavor spectrum for over 100 years). And Saveur ran a great recipe from cookbook author Andrea Nguyen for Vietnamese-Style Steak, which I've adapted below.
Maggi is made by a process similar to soy sauce, except with fermented wheat protein, so it has a deep, rich, and salty savoriness that cannot come from regular old salt and pepper. The best way to describe its actual flavor is "roasty." It tastes like cooked … something. I wouldn't recommend actually tasting the stuff on its own for anything other than academic purposes.
But the strangest thing about this super-processed, highly manufactured ingredient, is that it differs from market to market. Depending on which part of the world the product is targeting, it can include our good friend monosodium glutamate, or even a lesser-known enhancer called disodium guanylane that also packs in a serious flavor boost. MSG haters are in luck, here: The American and Mexican Maggi (called Maggi Jugo and available at any Latin grocer) contain no added MSG, probably because of complaints from people like you. The seasoning is also tweaked to market tastes so the German Maggi tastes different from the Mexican version. Real crazies even collect bottles from their travels.
Of course, you'll only need one bottle, which costs about three bucks.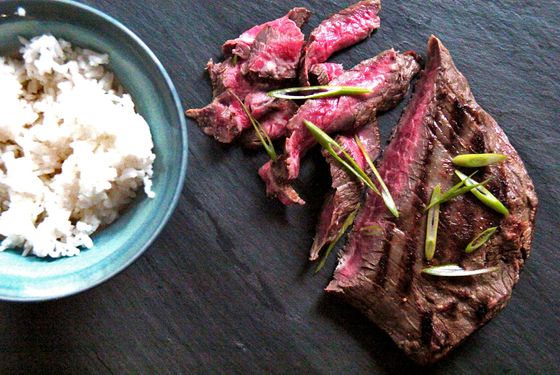 Maggi-marinated steakPhoto: Ian Knauer

Maggi-Marinated Vietnamese-Style Flank Steak
(adapted from Saveur)
Serves 4
1/4 cup Maggi Seasoning
2 tablespoons vegetable oil
1 teaspoon anchovy paste
3 large garlic cloves, finely grated
1 tablespoon finely grated fresh ginger
3/4 teaspoon finely ground black pepper
Accompaniment: White rice and chopped scallions
Stir together Maggi, oil, anchovy paste, garlic, ginger, and pepper in a bowl, then toss steak with marinade. Let stand at room temperature for at least one hour and up to four hours.
Preheat grill.
Rinse marinade from steak then pat dry. Grill steak over high heat until medium rare and grill marks appear, about eight minutes total. Transfer steak to a cutting board and let rest ten minutes before slicing thinly against the grain. Serve with white rice and sliced scallions.
Maggi Michelada
Makes one drink
Kosher salt
Chili powder
Kosher salt
1 lime, halved
1 teaspoon Worcestershire sauce
1/2 teaspoon Maggi Seasoning
1/2 teaspoon hot sauce
12 oz beer (preferably Mexican)
Stir together equal parts chili powder and kosher salt on a plate. Rim a glass with cut side of lime, then invert glass onto plate.
Squeeze one teaspoon lime juice into glass then add Worcestershire, Maggi, hot sauce and beer. Season with additional lime juice if desired.
Carrot-Ginger-Maggi Salad Dressing
Makes about two cups
8 oz carrots, peeled and chopped
1/3 cup peeled fresh chopped ginger
1/4 cup water
1 small shallot, chopped
1/4 cup seasoned rice wine vinegar
1 tablespoon Maggi Seasoning
1 tablespoon toasted sesame oil
1/3 cup vegetable oil
Puree carrots, ginger, water, shallot, vinegar, Maggi, and sesame oil in a blender. With the motor running, add vegetable oil in a stream and blend until emulsified. Thin dressing with additional water for a thinner consistency if desired and season with salt to taste. Serve with salad greens.
Ian Knauer is the author of The Farm: Rustic Recipes for a Year of Incredible Food, which will be released on April 17.