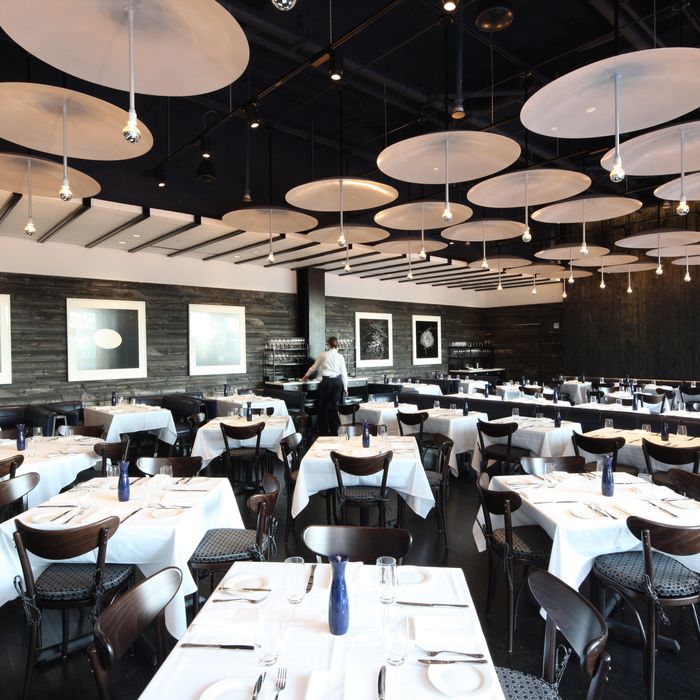 Danny Meyer's North End Grill.
Photo: Melissa Hom
The China Chalet in the financial district closes at 9 p.m., and Steve Cuozzo is peeved that China's owners and other restaurateurs treat the nabe like some small town, or worse yet, "cater to a Wall Street that no longer exists." Cuozzo's column today is a call to action to restaurateurs like Danny Meyer, Jean-Georges, and Daniel Boulud to come on down and serve the area's growing residential population. (To be fair, we'd say Meyer is doing his part, between Shake Shack, Blue Smoke, and North End Grill.) We agree with the perenially cranky critic that the FiDi does need more dining options beyond "Steakhouses and masculine-styled bistros;" the good news is, there are increasingly more places (as New York's recent feature on the area highlighted).
We like Sho Shaun Hergatt (as does Cuozzo) and other spots he didn't mention like Toloache Taqueria, Luke's Lobster, and Silver Lining. And we're excited for the cocktail scene to get a splash with the the upcoming Dead Rabbit and Demi Monde. Those of you who know the area, is there anything we missed? And who would you most like to open a restaurant below Chambers Street?
Opportunities high in FiDi [NYP]
Who Wouldn't Want to Occupy It? [NYM]