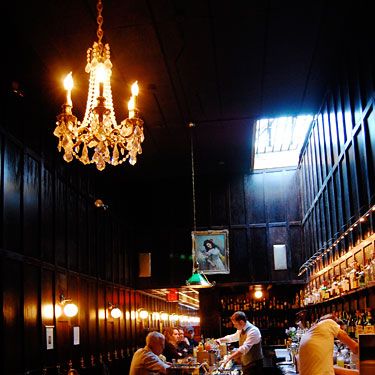 Dutch Kills will add food this summer.
Photo: Patrick Siggins
Eating a nice porterhouse while watching some catamaran-building isn't the only exciting development near 43rd Avenue in Long Island City. Turns out you'll also be able to get a bite or two to eat at cocktail haven Dutch Kills when its new kitchen, called Blissville, debuts in a few months.
Brooklyn natives Natalie Blake and Chris Faga were inspired to start the "pop-in" restaurant after spending many hungry but otherwise very enjoyable hours at Dutch Kills. Faga is a self-taught cook and has worked as a doorman and waiter at the bar, while Blake is a hospitality industry veteran. Blissville, like the name Dutch Kills, is a nod to the nineteenth-century Queens neighborhood. The historically minded suggestion was the input of Dutch Kills proprietor Richard Boccato, who has graciously allowed the under-construction kitchen annex some dining room space near the bar's entrance.
So what will you be able to eat? The Blissville team is developing a short and sweet menu to match the seasonal and standard cocktails at the bar, including sandwiches like a "rustic" pulled pork, a grilled cheese, and a sliced steak. "The menu will very much suit the vibe already set by Dutch Kills," says Blake. "We just want to serve food that makes our friends feel good." If all goes well, she adds, the restaurant will also serve take-out lunch to the local workforce through a walk-up window. Sure sounds happy to us. Look for Blissville to open in the early summer.