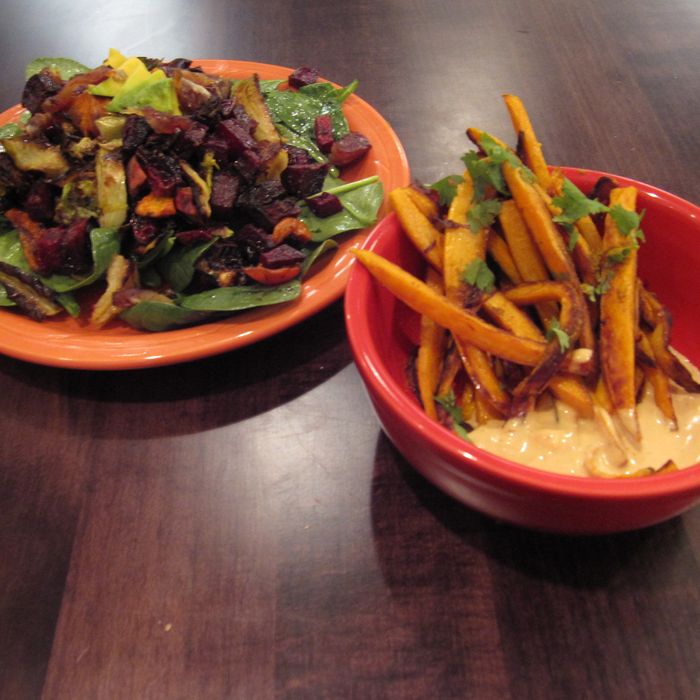 Salad and masala fries.
Photo: Jenny Miller
There's not a whole lot happening on the Lower East Side east of Clinton, so forgive us for just now noticing that Stanton Street Yoga opened a few weeks back, with a vegetarian café, the Divine Dish, serving meals from 8 a.m. to 9 p.m. daily. Chef Lisa Rubenstein is trained in Ayurvedic cooking, and her menu changes seasonally, incorporating organic produce from nearby markets. Everything is priced at $10 or under, including a flavorful, frothy chai, changing soups like a recent miso-kale-sweet-potato, and wholesome fare such as a roasted vegetable salad and tasty "masala fries," pan-fried in coconut and sesame oils (see the full menu here).
"Most people in the United States have some inflammation in the body," Rubenstein says, mentioning that she cooks according to Ayurvedic principles (a form of traditional Indian medicine) in order to combat that. The space also includes a yoga studio, wellness center offering massage, and a bed-and-breakfast upstairs. Coming up, Rubenstein plans to hold cooking classes, so keep an eye on the website for more details.
196A Stanton St, nr. Attorney St.; 352-870-7412
Stanton Street Yoga [Official Site]