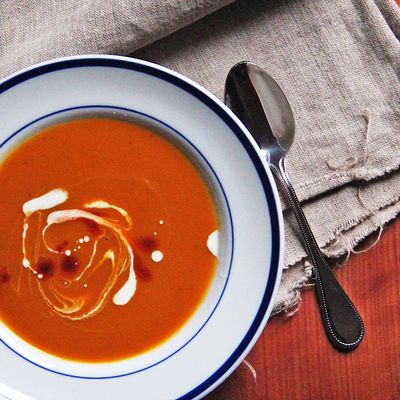 Why yes, that is a drizzle of bitters on the soup.
Photo: Ian Knauer
Anyone even halfway interested in cocktails has a bottle of bitters laying around their kitchen somewhere, and chances are high that it's a bottle of the most prevalent brand, Angostura. Almost every drink is improved by the addition of a few dashes of bitters (as Matthew Latkiewicz discovered last week, it doesn't even really matter what kind of bitters). But for as popular as bitters have become in bar culture, they get less play as cooking ingredients. I can't really figure out why: Bitters are just as good at adding flavor to food as they are at adding a kick to booze. Actually, they might even be better with food.
In Trinidad and Tobago, where the House of Angostura is based, people add bitters by the spoonful to stews, soups, marinades, and curries. The bitters are seriously potent (so much so that you'd never want to drink them straight), but the mix of sweet cinnamon notes and herbal flavors is fantastic when they're treated as aromatics, enhancing other flavors and adding depth to slow-cooked dishes.
You could make your own bitters — just soak a mixture of herbs, roots, and citrus in a high-proof vodka for about a month at room temperature, then strain — but it takes a lot of time and involves plenty of ingredients that you can't just pick up at the Pathmark down the block. (If you're really dedicated, you can start by picking up some Gentian root here.) The better bet is to just pay the $7 for a bottle and use it with somewhat reckless abandon anytime you make something that calls for low 'n' slow cooking.
A few chefs around the country use bitters in dessert, too. It's somewhat surprising — bitters are, after all, bitter — but, as in many cocktails, sugar softens any acrid flavors of the Angostura. Monica Glass, now the pastry chef at Fish in Philadelphia, spikes cherry meringue with bitters. And Emily and Melissa Elsen of Four & Twenty Blackbirds in Brooklyn add dashes of Angostura to the fillings of their incredibly popular pies. It's easy enough to do the same thing yourself, or to just add a few drops to ice cream.
But the savory applications are more interesting to me. While researching recipes, I came across one recipe for beef stew from a 1971 edition of the Sarasota Herald Tribune. The story used the phrase "stew-pendous," but I won't hold that against them because the idea of using Angostura in a stew like this is a very good one. In my version, the bitters' flavor balances deeply sweet caramelized onions. The bitters do something similar in a squash soup: balancing and enhancing the squash's natural sweetness. Plus, both dishes are great with an old-fashioned.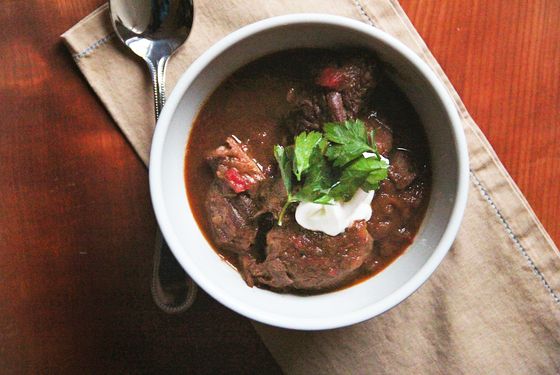 Beef and Bitters Stew.Photo: Ian Knauer

Caramelized Onion, Beef, and Bitters Stew with Parsley Salad
Serves 6
3 tablespoons olive oil or unsalted butter
2 lb beef chuck, cut into cubes
11/2 teaspoons fine sea salt
1 teaspoon finely ground black pepper
3 medium onions, sliced
1 qt chicken stock or low-sodium broth
1 cup crushed tomatoes
3 tablespoons Angostura bitters
1 bay leaf
1 cup parsley leaves
1 teaspoon finely chopped shallot
11/2 teaspoons lemon juice
1 tablespoon extra-virgin olive oil
Sour cream
Heat 1 tablespoon oil in a large heavy skillet over high heat until hot. Sprinkle beef with 1 1/2 teaspoons salt and 1 teaspoon pepper, then sear beef, in batches, turning occasionally, until browned, about eight minutes total. Transfer beef to a medium heavy pot.
Add remaining 2 tablespoons oil and onions to skillet with remaining 1/2 teaspoon salt and cook, stirring frequently and reducing heat as necessary, until onions are deep golden, 35 to 40 minutes. Add chicken stock to skillet, scraping up any browned bits, then transfer to pot with beef. Stir in bitters and bay and bring to a simmer. Simmer stew, partially covered, until beef is very tender, about three hours. Season with salt and pepper to taste.
Toss parsley with shallot, lemon, oil, and salt and pepper to taste. Serve stew topped with parsley salad and sour cream.
Squash and Bitters Soup
Serves 8
2 tablespoons unsalted butter
2 large leeks, white and pale green parts only, finely chopped
1 (3 lb) winter squash, such as kobucha, butternut, or pumpkin
1 qt chicken stock or low sodium chicken broth
2 cups water
2 tablespoons Angostura bitters
2 tablespoons light brown sugar
1 teaspoon fine sea salt
3/4 teaspoon finely ground black pepper
1/3 cup heavy cream
Peel and seed squash, then cut into two-inch chunks.
Heat butter in a large heavy pot over medium heat until hot. Stir in leeks and garlic, and cook, stirring occasionally, until leeks are translucent, about six minutes. Stir in squash, stock, water, bitters, sugar, salt, and pepper, and bring to a boil. Cook soup, uncovered, until squash is very tender, about 25 minutes.
Transfer soup to a blender and purée in batches. Season with salt and pepper to taste and serve drizzled with cream and additional bitters.
Ian Knauer is the author of The Farm: Rustic Recipes for a Year of Incredible Food, which will be released on April 17. Follow him on Twitter.
Earlier: Flavor Ammo: The Real Reason Chefs Love Kewpie Mayonnaise
Related: Sloshed: Will a Dash of Bitters Do Anything at All?