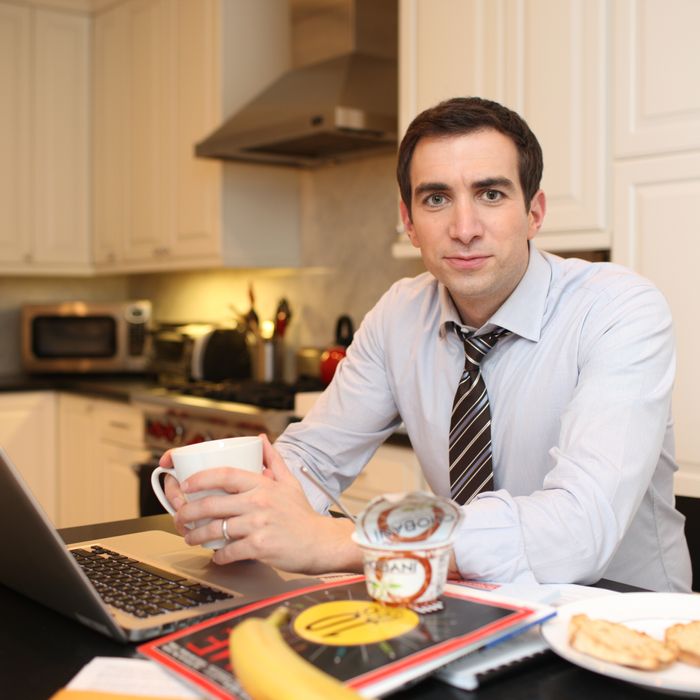 He tries to be disciplined; then someone feeds him a doughnut.
Photo: Melissa Hom
Andrew Ross Sorkin, the columnist for the New York Times, founder and editor at large of DealBook, co-anchor of CNBC's Squawk Box, and author of Too Big to Fail, has two ways of approaching food. The first is as sustenance — after all, his usual wake-up time is 4:30 a.m. and his work day involves more high-powered people and problems than most encounter in their entire lives. But Sorkin also eats in the name of indulgence. A self-proclaimed "human garbage disposal," he can't say no to food, from his 18-month-old twin boys' chicken nuggets, to bread pudding off a billionaire's plate. Read about that, his sentimental pita chips, and a certain glazed doughnut addiction in this week's New York's Diet.
Friday, March 2
During the week, I'm out of the house by 4:45 and in the car to CNBC by 5 a.m., so I choose foods solely based on them being portable and healthy — yogurts and bananas work well here. But first, I shoot an iced coffee because I finally learned how to use my wife's Nespresso machine. I don't even like coffee — unless it's coffee ice-cream or a frappucino — but I make it with ice and skim milk so I can just chug it.
Around 9 a.m., I had pretzels. There must have been a pretzel guest on because there were massive quantities everywhere. If food is in front of me, I have to eat it. Then I went to the Times and had a Fage Peach Yogurt. The proper pronunciation of Fage is a big marketing problem.
Lunch was at Marseille, and I'm still being good. I have a Moroccan omelette and sorbet. All is well in the world, until someone brings Dunkin' Donuts to the Times office. No will power around glazed doughnuts. I could eat a whole table of them. They're classic and timeless, without being too sugary and complicated.
Now I really go off the rails at home. It starts with a glass of red wine and half a bag of Stacey Chips. Then I eat more, but with hummus. They're the greatest chips in the history of all chips. When I was writing my book three years ago, I'd go to a bodega at eleven o'clock at night for a liter of Diet Coke, a couple beers, and my Stacey Chips.
That's not even dinner. For that, we ordered from Shun Lee — It's my wife Pilar's favorite place in the world. Everything revolves around Shun Lee. We over-ordered. We had Corona beers. My fortune read: You have a quiet and unobtrusive nature. I thought it was totally wrong.
Saturday, March 3
We woke up with the boys at 6:45 a.m. Pilar also loves protein bars, and because we were scrambling with the boys, I agreed to a bar. It was the wrong call. Later, like noon, we had a real meal of eggs on English muffins with turkey-bacon. We also made the boys chicken nuggets and I couldn't not eat some.
Pilar wanted us to go to Barry's Bootcamp. She said "this is going to be the hardest thing you'll ever do." I felt like I needed to man up, so you know, I had a yogurt. Ha! And for extra special reinforcement, I also had a sugarless Red Bull.
It was hard as hell. I couldn't believe what the hell was going on. And obviously I was starving by dinner. We couldn't get into the new Il Buco no matter how hard we tried, so we ended up at Five Points where I had two spicy margaritas and ruined Barry's workout within in twenty minutes. I also had a spinach salad, rockfish, and a chocolate brioche bread pudding and apple crisp to die for. Give me anything baked or fried and … forget it.
Sunday, March 4
Brunch was madness because we brought the boys and their friends to Ditch Plains. I had an omelette and some other things, but 90 percent ended up on floor. I felt like I had to tip a little extra for that.
I worked out midday and had some Muscle Milk after, like a chocolate protein drink. They don't work, but I figure I'll keep trying.
For dinner, we ordered from Chirping Chicken: chicken and my favorite sweet-potato fries, which weren't crispy enough this time. Again, madness at our apartment. There were, like, eight kids all under age 4, and a bunch of parents. We tried to go to Sarabeth's but couldn't pull it off.
Monday, March 5
Nespresso coffee iced and chugged, with the usual yogurt and banana on the way to work. I grab whatever fruit Pilar has in the bowl and whatever yogurt she orders from Fresh Direct. Basically, I just live there.
Monday is column day for me, which means I'm on lock-down and typically a little stressed. So it's the one day I don't do anything fun.
Lunch was a turkey sandwich courtesy of New York Times cafeteria. That is one great cafeteria. It should be in Zagats.
By the time I got home at night, I just looked in the fridge and grabbed the leftover chicken. It was not that deep of a thought.
Tuesday, March 6
Same boringness for breakfast.
In between MSNBC and the Times, I went to lunch with two venture capitalists at Michael's. Their choice, not mine. I like it there because that's how people know you haven't died yet. Ate salmon with mustard and sorbet for dessert. Okay, the venture capitalists offered me some bread pudding, and I got all in on that, too.
For dinner, we have the greatest housekeeper, Cida. She's most amazing person in the world. She makes this tomato soup, so I reheated that with some of Pilar's grilled chicken.
Wednesday, March 7
Routine breakfast. By the way, there was a month when I was also into instant oatmeal.
Lunch was courtesy of Delta because I was flying to New Orleans for the mergers and acquisition conference. Mushroom soup was good, but the turkey sandwich was awful. Had a big bag of chips because they were there, and a brownie made with peanut butter because it was there.
Checked in and went straight to Café du Monde for a beignet, of course. Heaven.
Went to a cocktail party at Roosevelt Hotel. I actually have fun at these things. Had barbecue shrimp and shumai. The dinner was a small feast of oysters and steak at Broussard's. I had to go home to sleep before dessert because of a 3:30 a.m. wake-up time, but also because I knew Thursday entailed lunch at Galatoire's, where I eat uncontrollably for hours. In New Orleans, you don't do dainty bites. You consume and inhale.