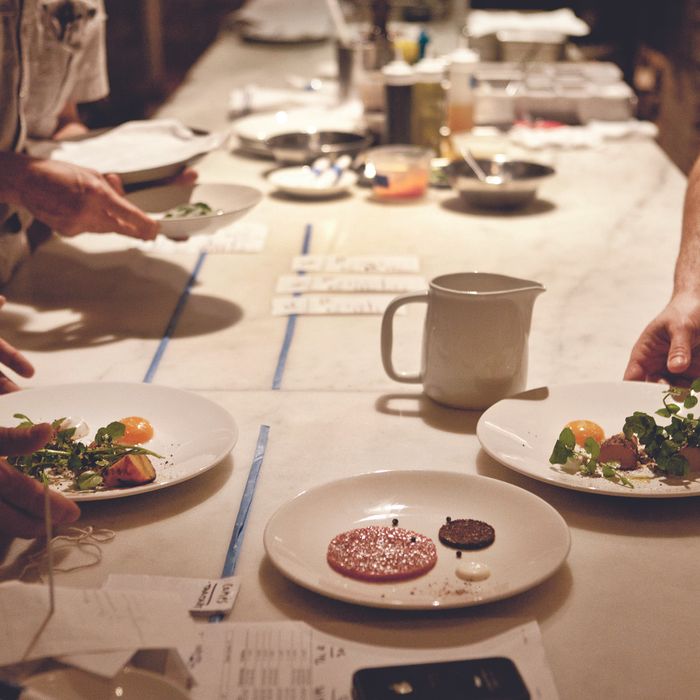 In this week's New York, Adam Platt crosses the East River to Isa, "Taavo Somer's [Peels, Freemans] quirky, unpredictable, singularly interesting new Williamsburg restaurant." Our critic notes that Somer and chef Ignacio Mattos (Il Buco) have "exchanged high rents and glitter for the freedom to pursue their own quirky ideas and experiments at a languid, agreeably neighborly pace." That means "highly refined lumberjack food," including "a sizzling flap of pork steak garnished with yogurt and sprigs of purslane," and a winning "sugary confit of duck leg." However, it's not all winners: Platt also encounters an "inert lump of codfish," and a "rubber-skinned chicken"; the restaurant receives two stars.
Platt also visits Il Buco Alimentari e Vineria, "the popular, painstakingly rusticated market-restaurant spin­off … Il Buco." A market in front sells artisanal goods to take home, while the restaurant in back serves "beautifully balanced pastas" and "ribbons of roast porchetta (best enjoyed at lunchtime stuffed inside a filone roll)." However, fried rabbit is overly bony and a recent artichoke dish was "soggy." This one also receives two stars.
Meanwhile, Michael Idov delves into the burgeoning youth foodie culture, asking, "When did young people start spending 25 percent of their paychecks on pickled lamb's tongues?" Good question. As research, he asks a 27-year-old, Diane Chang, to record the tidal wave of foodstuffs she consumes in a month, and it rivals even your Grub Street editors' gonzo diets: Five Guys, ABC Kitchen, Mile End, Saraghina, and many more appear in her photo diary.
And speaking of edible obsession, Rob Patronite and Robin Raisfeld examine the phenomenon of "crack" foods, including, of course, Momofuku Milk Bar's Crack Pie, and other similarly named dishes, like Calexico's Chipotle Crack Sauce, Whitmans' Crack Kale, and more. For something more moderate, the Robs also tell you what to do with upland cress, courtesy this recipe with poached egg and bottarga from Zak Pelaccio.