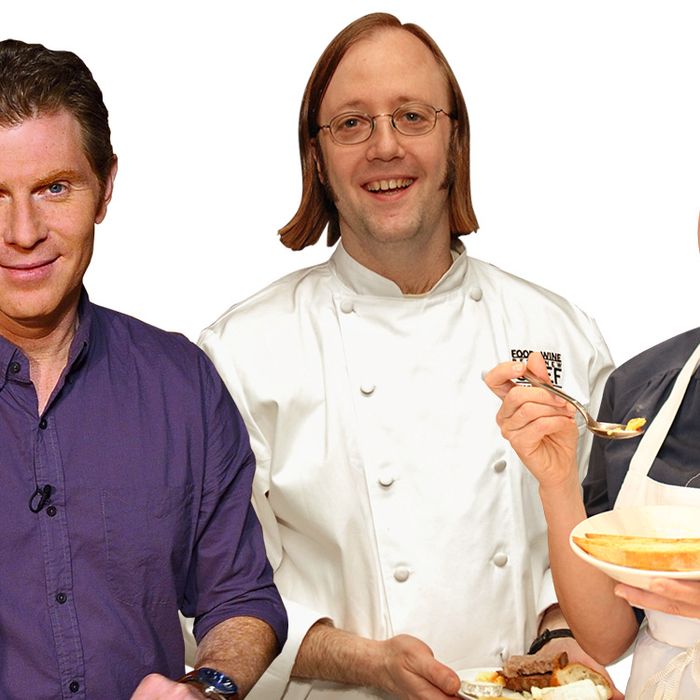 Lots of things in the works.
Photo: Flay: Larry Busacca/Getty Images, Dufresne: Jamie McCarthy/Getty Images, Hamilton: Melissa Hom
This past weekend, the country's chefs headed down to Florida for the annual South Beach Wine and Food Fest, and as always the weekend was packed with marketing events, great meals at new restaurants like Red Steakhouse, 1500 Degrees, and Makoto, and — most importantly — plenty of parties where chefs were more willing than usual to talk about their future plans.
Prune's Gabrielle Hamilton, who has until now steadfastly remained a one-restaurant chef, told us, "I am thinking of packaging what we do and selling it." She added, "I'd like to do a market — leave it small and call it a pantry or prepared food CSA."
Jean Georges Vongerichten, who himself was in town to support his new J&G; Grill at the St. Regis, told us he was also meeting with Wylie Dufresne about a new potential project. Vongerichten (a partner in wd~50) let slip, "Wylie has a new baby and wants to do something else." Phil Suarez, another wd~50 partner and Vongerichten's main backer, added that Dufresne is "looking aggressively" for a new space on the Lower East Side.
Bobby Flay reiterated that he, too, is looking for a space downtown, in hopes of opening his now-closed Spanish restaurant, Bolo. "I'm looking now for a location south of 23rd Street," Flay said, referencing the spot's original location.
Meanwhile, Gotham Bar and Grill chef Alfred Portale might have the most ambitious plans. "I hate to put this out there," he said, prefacing his plans for an Inn in Connecticut. "I'm looking at a hotel in Salisbury." He went on to explain the idea: "It's a very high-end, three room Relais spot called The White Hart, but the restaurant could be a bit more casual. I'm trying to partner with these guys who run boutique hotels. I would do the restaurant."
For his part, expansion-happy Michael White vowed that his own new restaurant, the East Village pizzeria called Nicoletta, would be open in time for the spring. And that he has no plans to stop expanding. "When I worked for Steve Hanson I wasn't sleeping. I was taking copious notes," White told Grub Street. "He said, 'Going from one restaurant to two restaurants is hard, but three to six is easier.'"