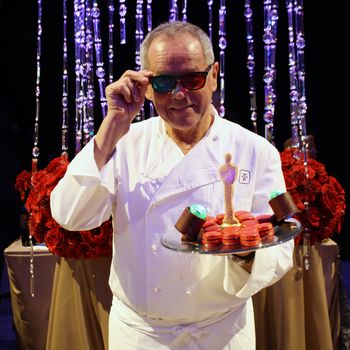 Puck shows off the 3-D dessert he'll serve at this year's Oscars.
Photo: Lesley Balla
Even by his own, crazy successful standards, Wolfgang Puck is having a red-hot winter: He's got a brand-new restaurant at the Hotel Bel-Air, he's set to receive a James Beard Lifetime Achievement Award, and he's of course getting ready to reprise his role as the caterer for the Oscars Governor's Ball this Sunday. "It's more like an ensemble of dishes, like tapas. So everyone can eat as much as, and whatever, they want," Puck says of the menu he's planning. And even he says he's watching his weight in advance of the big day: "I have a tailor-made fancy cooking jacket for the Oscars," he jokes. "If I gain three pounds, I won't get into it." But even with all that going on, Puck still managed to find time to hang out with Lenny Kravitz in Vegas, hit the Santa Monica farmers' market, and cater Muhammed Ali's 70th birthday party. Read all about how the world's foremost celebrity chef lives in this week's L.A. Diet.
Wednesday, Februrary 15
My most important kitchen tool is my espresso machine, fully automated. I have at least three double espressos before I leave the house. I like it with a little foam, like a macchiato. My wife, Gelila, is from Ethiopia, and she likes coffee even more than me. Sometimes, if we have guests, she actually roasts the coffee beans herself and makes Ethiopian coffee. But you can't wait for it every day.
I went to the Santa Monica farmers market early in the morning. Spring is coming, so we found some nice asparagus and English peas, some good mangoes, new onions, and green garlic. I brought it all to the Bel-Air Hotel. They had a bean soup on the menu, but it was too white. It could be from anywhere; in Montana, really. So I gave this to them and said make me a soup, and Sonny [Sweetman, executive chef] made a beautiful green garlic soup we tasted.
I brought some vegetables home for the children, Oliver and Alex. I went home around 5:30 p.m. and cooked dinner. We had pasta, and I grilled some steaks. I sautéed spinach with garlic and steamed some carrots and Brussels sprout leaves, beans, and peas, and cooked a few beets. I steam them, but keep it crunchy. Even my 5-year-old likes broccoli and carrots, but they have to be a little crunchy. I just toss them with a little olive oil and fleur de sel.
Afterward, I made rounds at the restaurants. Taste a little food here and a little food there. But mainly I taste the cookies, ice creams, and sorbets. I have a weakness for sweets. I probably had a glass of wine in the restaurant, and then I went home.
Thursday, February 16
I don't eat much breakfast. Maybe I have some fresh orange juice with the kids and some fruit puréed with yogurt. But today, just my regular two espressos. Then I went to the fish market, IMP Downtown, because the first king salmon came in from Alaska. I wanted to make sure it was good. I also bought some live shrimp, kampachi, and tuna that we used in the fresh seafood display at the Oscars preview.
I went to Hollywood for the Oscars preview. I met with Matt Bencivenga and Sherry Yard to go through the whole thing. We decide how we're going to serve the food, make little adjustments. It was like a press conference, so we had a lot of interviews throughout the morning.
After that I went to Spago for lunch, but I just grazed. I think I was home by 4 o'clock because we were going to the Obama thing. There we waited around, there was nothing to really eat. There was some cheap red wine and some parmesan, nothing special.
After that, we met photographer Bruce Weber at the Polo Lounge for drinks. We were supposed to go and eat somewhere, but I said let's just grab a little bite at the Polo Lounge. Gelilia and I shared the tortilla soup and steak tartare. But I have to give them the recipe, tell them how I want them to make it. We had a few glasses of red wine and went home.
Friday, February 17
I had my double espressos at home. This was really a restaurant day, all day. I took the kids to school, then I came home and exercised with a trainer for an hour and a half. Then I went to Spago for lunch, and the Bel-Air for late lunch. And I tasted some stuff here and there. I definitely tell them, you know, make it this way, make it that way.
I went to my office, then home again around 5:30 p.m. We had dinner with the kids. I usually cook, but it's pretty simple. We had some grilled salmon, and also wienerschnitzel, which is the kids' favorite, and steamed vegetables.
I went back to the restaurants, ended up at Chinois. I sat down there and had them make some fried rice to take home for the kids. I didn't really eat there, but while waiting for the rice, I just picked off of the manager's plate and I had a glass of wine. I came home around midnight.
Saturday, Februrary 18
I had a fast breakfast at home and six double espressos. After breakfast, we all went to Vegas and checked into the MGM. I took the kids downstairs to Wolfgang Puck Bar and Grill for a quick lunch. I didn't really eat, but I ordered pizzas for them.
I went over to Mandalay Bay to do some television, then back to MGM. We were doing food for Muhammad Ali's 70th birthday and a benefit for Alzheimer's. We went to look at the room, how we were going to serve everything. We did all of the hors d'oeuvres, the potatoes with caviar, smoked-salmon pizza, some crostini with steak tartare. I worked a little bit and then I put on my jacket and went into the event. I had enough caviar with the potatoes, so I didn't really eat, but we drank good wine and Champagne.
The party went until midnight or so. They had Lenny Kravitz sing, Kelly Rowland from Destiny's Child, L.L. Cool J, Stevie Wonder, Slash. They all performed. Gelila and I went upstairs to The Bar and Grill with Cindy Crawford and Rande Gerber, and we had some pizzas and wine. Also, Drew Nieperont and some of our partners, we all hung out. We said we'd go for half an hour and we were there for two hours. When we arrived at the elevator, we had the last suite at the last building; I had to take my shoes off, my feet hurt so bad. I couldn't walk any more.
Sunday, February 19
By the time we went to sleep, it was like 3:00 a.m. The kids woke up at like six, and my wife ordered breakfast and I didn't get out of bed. But we had to get up. I called the restaurant and had them send up two cappuccinos for my wife, and two double ones for me. I didn't eat breakfast. Once we finished, we went over to the shark reef at Mandalay Bay. We went by Lupo and ate a little cookie, had some water.
Then we went to Spago at Caesars for lunch at like three, and had lunch until five. Eric [Klein, executive chef] made some great kampachi, some igloo tuna — an igloo made out of ice with the tuna inside. I had turbot with romanesco sauce. I said 'cook for us,' and naturally he did, but he made a lot of stuff. We ate so much.
The kids went to see O at the Bellagio and Gelila and I went to visit my partner, Tom Kaplan, and his wife because they just had a baby. We got back to the hotel at around eight. The kids were still at the show, so we went downstairs to our Bar and Grill, and had a couple of pear martinis. Then we went to see Lenny Kravitz at the Grand Garden there. That was very exciting and a lot of fun. He brought out Slash. And also brought out Muhammad Ali for his birthday again. We all sang "Happy Birthday," the whole stadium. It was a great concert.
We went backstage and I saw my friend Quincy [Jones]. I never met Lenny Kravitz, so we talked a little bit. I said, Aren't you hungry? You just played this long show. Let's go eat. We went to the Bar and Grill with Lenny, Quincy, Terrence Howard, and some people. We had a little private room for about twenty people and drank some good Brunello di Montalcino. We ate all different kinds of salads, some white pizza with mushrooms, black-truffle pizza. We had pastas and rib eye steaks and finished with chocolate soufflé and banana cream pie. I looked at the clock and saw that it was 3:30 a.m. I thought it was only 1:30. So we finally went back to the room to sleep.
Monday, February 20
We got up late, and we ordered breakfast for the kids. They brought us cappuccinos from our restaurant. And while Gelila was packing and everything, I took the kids downstairs. I had an apple salad and cheese for lunch, the kids ate pizza. And we played a little bit, and then we went to the airport. We flew home in a private plane with Quincy Jones, Terrance Howard, and a few people.
We were back here at the house and Gelila's mother was arriving from Ethiopia. Since Gelila didn't really eat that day, she was fairly hungry, so I called Spago to get some beet salad, apple salad, and some wienerschnitzel. We had marjolaine, my favorite cake, for dessert.
Gelila talked to Vittorio Grigolo, the opera singer. He sang La Boheme at the Met; he's one of the big stars. He came over and had dinner with us, he was there playing with the kids when I got back from Spago. And another friend, a professor from Princeton, came. He apparently likes to sing opera, but he didn't know this opera singer was there. After eating and drinking, the two sang. It was a fun night.