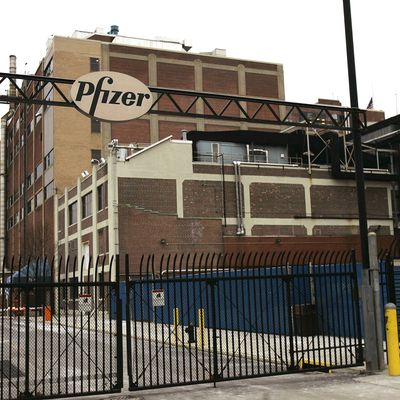 Three well-known tenants have already signed leases on production space.
Photo: Chris Hondros/Getty Images
Good-bye, Viagra; hello, kombucha: The old Pfizer plant on Flushing Avenue will soon become a booming culinary production facility. In fact, Grub Street has learned that Kombucha Brooklyn, Brooklyn Soda Works, and Steve's Ice Cream have already signed the leases and taken up shop.
The eight-story, 660,000-square-foot Williamsburg plant was originally eighty-sixed in 2008. Acumen Capital Partners — a real estate investment firm whose other projects includes the Brooklyn Grange — took the property over last year. The building's unique (FDA-approved) facilities are ideal for food production. For example, KBBK will be able to brew tea and store live cultures for its kombucha at a specific, controlled range of temperatures.
The plan has at least one well-known supporter, Brooklyn borough president Marty Markowitz. His office e-mailed the following statement to us:
Losing Pfizer was a big blow to Brooklyn but I was determined to make sure that this building continued to provide high quality jobs to Brooklynites. I want to commend Acumen Partners for their commitment and creativity and for bringing in great companies like Kombucha Brooklyn, Brooklyn Soda Works and others. Like Pfizer, these companies are starting small, but one day they may be as big or even bigger than Pfizer and they will never turn their back on their place of birth, Brooklyn, U.S.A.
Between this and the just-announced 3rd Ward culinary incubator, Brooklyn's powers-that-be are doing quite a bit to support the borough's thriving food scene.