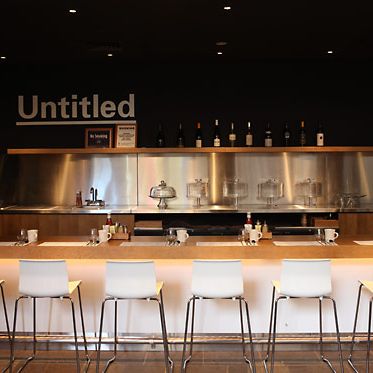 Untitled's new menu starts Thursday.
Photo: Melissa Hom
Hopefully you caught Untitled's pastrami Reuben in the Robs' gut-busting roundup this week; now comes further news from Danny Meyer's Whitney Museum restaurant. Grub has gotten our hands exclusively on the dinner menu for the à la carte program, which launches Thursday.
During the evening hours, you'll have to sate sandwich cravings with a trout BLT or a pimento grilled cheese. (Pro Tip: The extraordinary pimento cheeseburger won't make an appearance, at least at first, but guests in the know can — and should — order it off-menu.) There's also promising-sounding plate of lamb meatballs with Beluga lentils, and a pork chop that comes with bacon bread-pudding. We hear the cocktail list is getting turbo-charged with an injection of Stumptown coffees, though exact details are still in the works. Check out the new dinner menu below.
Dinner Menu [PDF]