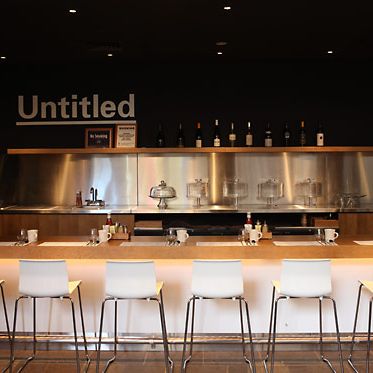 Change is afoot at Untitled.
Photo: Melissa Hom
Not long ago, Danny Meyer's Untitled at the Whitney launched a $46 three-course farm-to-table dinner three nights a week. But nine months later, they're changing it up again. Instead of the fixed-price, no-additions, no-substitutions meals, chef Chris Bradley will offer an expanded dinner menu with about six appetizers and six entrees — all with a focus on what's seasonal and local.
In addition to hearty mains like braised short-rib or ricotta gnocchi, there will also be lighter fare — some of the familiar sandwiches from the lunch menu will reprise after dark, and new ones might rotate in. Unless they sell out at lunch, daytime desserts from Four and Twenty Blackbirds and Betty Bakery will be on the menu, in addition to housemade sweets, a concession to diners who would specially request those items on top of their prix fixe portions. Dinner hours won't change, so it's still only Thursday through Saturday nights, but Upper East Siders will have more flexibility to dine as they choose. Look for the new program to launch later this month.