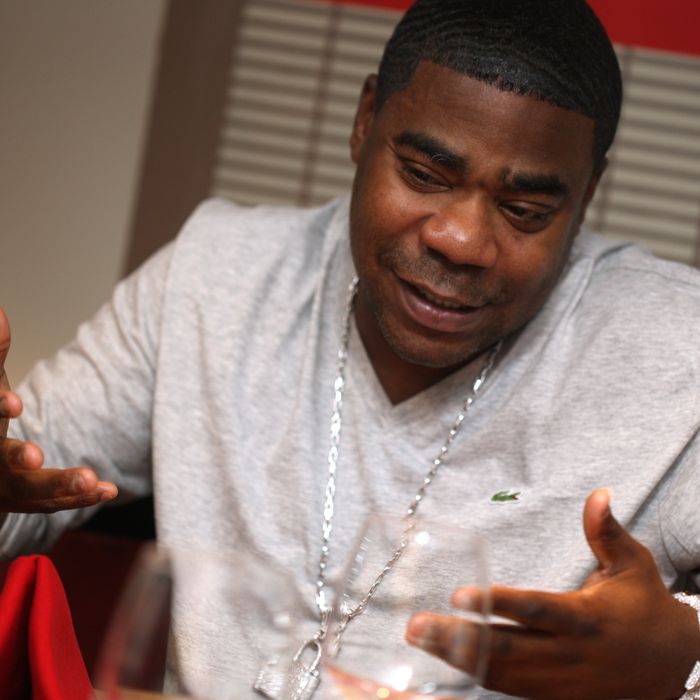 The verdict: "Benihana is a five-star restaurant."
"I love Benihana like I love my favorite strip club," Tracy Morgan says. "Sue's Rendezvous and Benihana, that's the joint." Morgan's love of Benihana isn't exactly a secret (this week's 30 Rock episode has his character trying to spend $50,000 there in a single day), so when we heard that the hibachi chain had just reopened its midtown location after undergoing a few months of renovations, we knew we wanted to get Morgan's opinion on the remodel. Sort of amazingly, he agreed to meet us there for dinner last night.
"This is my family. These people know me," he says. "This is fancy, man. They cook the food right in front of you. They might go to Pathmark and buy it, but they're gonna cook it. Fancy."
He says at one point, he was hitting this specific location three or four times a week. He also says he got a hibachi grill installed at his house and hires Benihana staffers to host Benihana nights at his house. It's not surprising, then, that 30 Rock's writers got the idea for last night's plot line. "When they put Benihana on the show — all the writers know that I love this place — that was the greatest compliment they could show me."
So, when they first closed for renovations, Morgan says he was pissed off: "Nobody told me! I had to put in a call to the front office." How desperate did the situation get? So desperate that, at one point, he went to the chain's Long Island branch to get his hibachi fix."It's not as noisy. It's not as exciting … This is the Benihana on 56th Street in Manhattan. It is going down. Everybody comes here. L.L. comes here, Busta comes here. The Rock comes here. Everybody comes to this Benihana."
His verdict on the redo is equally glowing: "The food is still great, and the place is marvelous." He notices the new decorating (the restaurant hired the same architects that designed the first Shake Shack), but most of the additions don't interest him. He doesn't drink anymore, so there's little reason to go to the new bar on the first floor: "I'm cool with the bar, but that's for people who want to get their spirits on." And he doesn't want to sit in one of the new, isolated private rooms because the main draw for Morgan is the other customers.
"I was somewhere [on the road] by myself and I came to Benihana and I started doing material there," Morgan says of his first trip to the restaurant. "I fell in love with Benihana because, if you sit at a table full of strangers and you don't say anything to anybody, you're an asshole." So, he says he started using the restaurant regularly as a way to try out jokes on the public. "You've got a built-in audience. It's like a small comedy show, and this is the stage."
As we're talking, Morgan notices a guy at the next table listening. When asked what he likes about the vibe, Morgan answers loudly, for the other guy's benefit: "It's romantic. I go up to the hood, get a chicken head, bring her here and I'll wrap her up. It's fancy." Guy at the next table is loving it. "That's my thing, going up there in the hood and getting them chickens pregnant." Tracy's talking directly to the table next to us now. Everyone, about seven strangers, is on the hook. "I'm old-school. I don't be pulling out. I ain't wearing no rubber, either. If you ain't willing to die for it, you didn't really want to have it." By now, the guy at the table next to us is dying, wiping sweat off his forehead he's laughing so hard. Morgan keeps the roll going: "I ain't out there with the young girls. They want too much. Last young girl I had said, 'I want you to do it to me for two hours.' I said 'that's your decision.' You can get two hours of some bullshit, or you can get four and a half minutes of some dynamite."