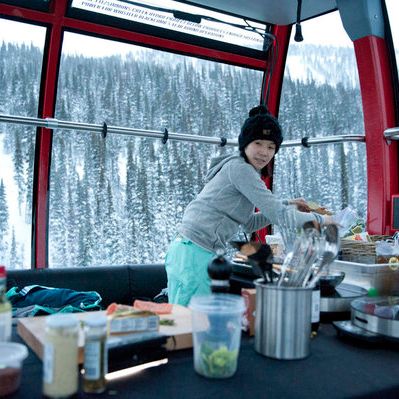 It sure doesn't look like Texas.
Photo: Virginia Sherwood/Bravo
Did you think that last night was the penultimate episode of this season of Top Chef? Guess again! It was the first of millions of episodes that Bravo will force us to watch to find out who won this godforsaken season. The final spectacle kicked off in British Columbia at the location of the Vancouver Winter Olympics, where the chefs were sent to the top of a mountain and pushed off and buried in an avalanche, the end! Oh, no, sorry, we let our fantasies get the best of us with 58 minutes of episode left. But who can blame us when the actual dialogue at the beginning of this episode included lines like, "look at this tree" and, "there is a lot of wind and snow"? Actual. Dialogue. If this show wins another Emmy, we will go bury ourselves in an avalanche.
Because the Olympics happened on this mountain, our chefs get to experience the culinary games. We're still not sure how this ties into the Texas theme. No one looked excited until Padma and Tom mentioned that the winner of each of the three rounds would get $10K. The first event required the chefs to create a dish while riding in a very fast gondola, 7,000 feet above sea level. The gondolas were well stocked with good ingredients, which Sarah had a problem with, of course. Who cast this show?! She decided to cook with prune juice(?!) and made a chorizo with onions and gooseberries to go with it. Paul made a lamb loin with curried mushrooms, and Beverly made salmon tartare. They all lost to Lindsay and her seared salmon over quinoa-and-chorizo "risotto." Surprise! She got to go right to the finals and not cook anymore this episode, which means we didn't get to see nearly enough of her Barbie earrings.
Event two stepped up the torture level, perhaps as a gift to us viewers who have suffered all season. The chefs had to chip their ingredients out of giant ice blocks before they could cook. For once, our Bravo feed did not cut out, allowing us to see just how scary Beverly and Sarah looked with their ice picks. Paul was clearly worried, as he helped them both dig out ingredients. Even with the time he took to help them, he still managed to win the challenge with a dish of king crab in brown butter with mango chutney. How much money has he won by now? Surely he could just leave the show and open 50 restaurants at this point.
Sarah kicked off the third and final event by letting us know that she planned "to fight to make it into the finale." No kidding! The sadistic pleasures continued in this task, which had Sarah and Beverly cross-country ski (read: fall all over the place) and then shoot targets for their ingredients with just ten bullets. So, on a Texas-themed season, they decide to have a shooting challenge in … Canada. Can anyone explain this?
Anyway, Miss "I'm From Houston, I Shoot Guns All the Time" Sarah didn't do so well during the shooting portion, which is unsurprising since Houston is not actually some sort of outlaw town, but is instead a major city where people buy their food at H.E.B. Anyway, Sarah made a braised rabbit leg and heart with cherries, hazelnuts, and sauerkraut purée. Beverly, with no access to the Asian flavors she wanted, made slow-roasted arctic char with onion-beet compote and truffled celery-root purée. The judges loved Beverly's earthy flavors, but not enough, so she got eliminated for a second time this season.
Next week: Against all odds, it's not the finale. FML.