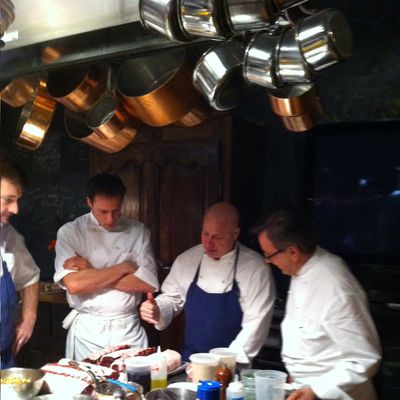 Colicchio cooking alongside foodie-Olympian Garrett Weber-Gale and Daniel Boulud.
Grub caught up with Tom Colicchio this weekend at the Bouley Test Kitchen, where, alongside culinary superheros like Daniel Boulud, Daniel Humm, and David Bouley, he cooked a stupendous meal to raise money for the Gold Medal Dining Experience with Garrett Weber-Gale presented by All-Clad. In between courses, we just had to ask: After almost ten seasons of hosting Top Chef, is the gig getting a little … old?
How will you endure, let's say, ten more seasons of the show without being absolutely bored to death?
Well, I don't know about ten more! But I will say, it really doesn't get boring for me. It honestly doesn't. Here's the thing: I'm not a fan. That's not my role. So it's not about the challenges and if they feel new or not; it's really more about the contestants. And they're always new, and different, and sincerely fun to get to know. I'm being serious.
Who's been most fun to get to know?
Wow, we've had so many really talented guys. The Voltaggio brothers are going to have a long career; Kevin from that season is going to have a long career; Sarah from this season is running one of the best Italian restaurants in the country; Paul is amazing, too; Look at their pedigree. These guys aren't going on the show because they want to go do demos and festivals, they really want to cook.
So, you'll keep doing the show as long as they'll have you?
My only job there is to have good conversations about food. When I'm tired of talking about food, that's when I'm done doing the show. And that's not going to happen for a long time. Hey listen, I have an Emmy!
And you're famous!
I don't care about that. My two-and-a-half-year-old looks at the TV, and then looks at me, and just can't quite figure it out. It's really funny. We don't try to explain it yet because he won't be able to comprehend it at this age.
What's on your restaurant list right now?
I reallllly want to go to the Japanese vegetable restaurant … Kajitsu. But I don't get out much. My wife's birthday is on Valentine's Day, but we won't even go out for that. We'll be up in the North Fork. I'll cook for her … but can't think about it yet; I'll figure it out that day.