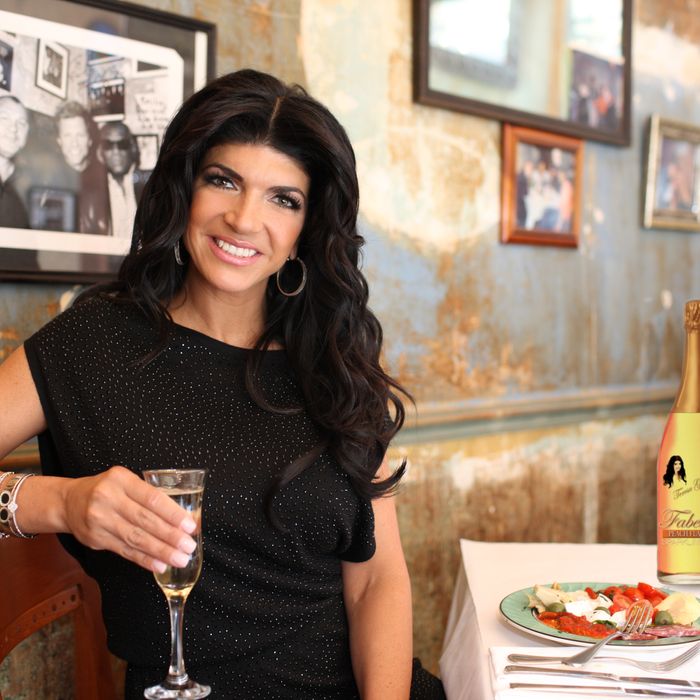 Teresa with her "Fabellini" bottle at Ballato, an old date spot for her and Joe.
Photo: Melissa Hom
If reality TV is your thing, Teresa Giudice probably lives somewhere near and dear to your heart. She also lives in New Jersey, where she films the epic Real Housewives of New Jersey — of which she says, all the "fakes" will be exposed next season. This week, Giudice — author of Skinny Italian, Fabulicious!, and Fabulicious: Fast & Fit — also debuted on The Celebrity Apprentice. Read about stress eating on the set, feeding her four daughters, and her usual Ash Wednesday tuna-fish fix in this week's New York Diet.
Friday, February 17
I had a big day of press for my upcoming book and Celebrity Apprentice in the city, so breakfast was a quick bowl of berries at home in New Jersey. I love blackberries, blueberries, and strawberries. I like to have a few scoops of peanut butter, too. I LOVE to eat and absolutely cannot be hungry.
Stopped in for lunch at Ballato's on Houston Street — this was my favorite place to go with Joe before we had the girls and while I was still working in Manhattan. Being in Ballato's is like getting warped back to Italy. Had the halibut over spinach and cannellini beans. For dessert, we shared a cannoli. Honestly, I have no idea how some people deprive themselves.
Back home with my daughters, I cooked grilled chicken and salad for dinner. I marinated the chicken with olive oil, lemon, garlic, paprika, and salt. I dressed the salad with sliced almonds, cranberries, shredded carrots, extra virgin olive oil, and balsamic.
Saturday, February 18
This was a mommy and girls day. I cooked up some egg-white omelets with red bell peppers, onions, and mushrooms at home. I've been dying to go to Eataly with the girls. From what I kept hearing, it sounded like heaven! So we drove into the city and, oh my God, it was incredible! Nibbled on some meats and cheeses and just soaked it in.

Saturday nights are date night! Joe and I always try to schedule in time for just us. We went to dinner at Asellina in the Gansevoort Park and I had the roasted branzino. I was there during Celebrity Apprentice — they fed us really well during the show. I heard there were complaints in the past of contestants not being fed, so they overdo it now.
Sunday, February 19
Sunday was insane. I was jetting to the airport to fly to Savannah, Georgia, for a book signing. Thank god I have gotten no criticism or anything on the books. It's all been so positive. But that's because I cook very clean and traditional. Anyway, I just grabbed a Fiber One bar because I was on the go, and had almonds on the plane.
I worked through lunch signing copies for my fans. Such a great crowd in Savannah! I was already back at the airport before I was able to eat again. I picked up a crab chowder soup, but it really wasn't good. I couldn't finish it!
Eating in the airport made me miss our usual Sunday family dinners. My parents come over, and I make pasta, Joe's juicy meatballs, braciole — the works. Sunday always remind me that I have a great husband, four healthy daughters, and that everything else is all materialistic and … who cares about it.
I caught the last half hour of the Celebrity Apprentice premiere. I was wondering why they didn't show more of me cooking.
Monday, February 20
Breakfast was in a hurry again — I had hard-boiled eggs. Joe and I were busy packing the car for a short vacation to our house in upstate New York. The kids had two days off for President's Day. My fans will remember the house from Housewives. We absolutely love it up there. We literally spent the entire day quadding!!
Joe and the girls went to an Italian deli to make Italian hoagies, but I had my marinated grilled chicken for lunch. We're going away for spring break with the kids in a few days. Thank God I've never had to diet, but still, I'm being extra good! We all overate because stress on Celebrity Apprentice, and I'm hitting a milestone birthday, not that I want to advertise it; things catch up to you.
At night, we built a fire in our fireplace and played Pictionary and Scrabble with the girls. I made my Skinny Snapper from Skinny Italian for dinner. I also sautéed some eggplant and tomatoes with extra virgin olive oil and garlic.
Tuesday, February 21
I wanted to make scrambled eggs with ham. Whatever mommy does, my daughters want to do. So we all pitched in. Gia sliced up the ham for me. Gabriella shredded up some Swiss cheese. I had Milania whisking the eggs. Audriana started to get upset, because she wanted to be involved. She's still only 2, but I asked Milania to show her how to whisk the eggs.
We have two brick ovens at our home upstate. It's tradition for us to make pizza when we're up there. You can't look at those ovens without using them!
Dinner was my chicken bruschetta, which is a new recipe I just created. It's actually going to be in my third cookbook. The girls and my friends are obsessed with it. I roasted some asparagus for a side. See, I did the cookbooks because everybody used to think that all I do is shop all day, and its not true.
Wednesday, February 22
We're back in New Jersey, and the girls went back to school. I had Kashi's 7 Whole Grain Honey Puffs before heading to the gym. My trainer beat my butt. It's important … somebody can be thin and still not have the stamina and endurance that you should have.
I cooked cabbage soup with potatoes and a touch of red sauce for my lunch before the girls got home from school. It's Ash Wednesday, so no meat. Normally on no-meat days, because I'm Catholic, I eat tuna fish with extra virgin olive oil on whole wheat crackers. I don't like it with the mayonnaise so much.
My real life is not as dramatic anymore. I've filtered a lot of that out. In the next season of RHONJ, you'll see people's true colors come out. Some people are really good fakers, but you can't pull that off forever. You'll see. To me, life is food, good friends, good family, and of course … success. No restaurant says that more than i Trulli. We went there for dinner and I had a lot of homemade pasta, my all-time favorite food. The mother is like 80 and she makes the little pastas in the front. There's a gay bar across the street. It's so much fun.