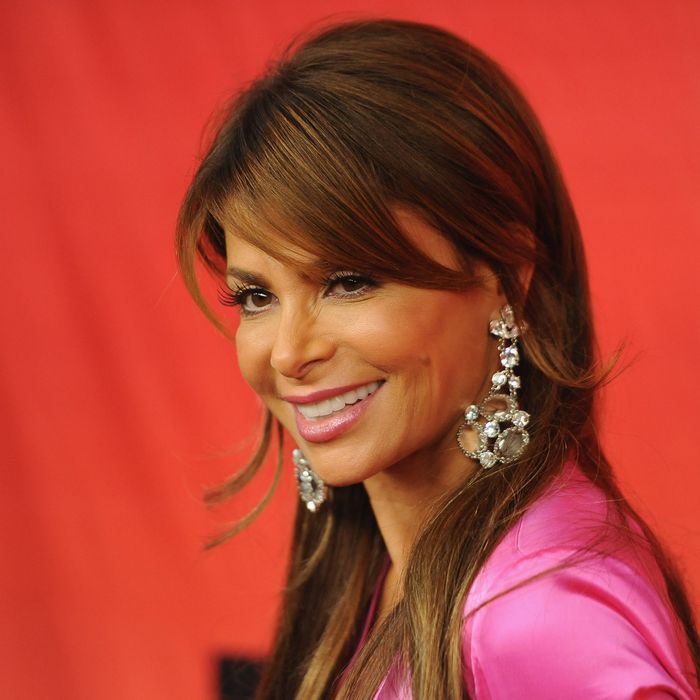 Fembody gives her "clear focus."
Photo: Mark Davis/Getty Images
Last night at the Andaz Hotel, Grub Street spoke to Paula Abdul, who was promoting Fembody Nutrition, a beauty and diet supplement that often uses the slogan "Curb the cravings," for which she is the national celebrity spokesperson. Yet she tells Grub that she doesn't diet or take the diet supplement part of the Fembody "package," nor does she know anything about underground diet pills. As for Fembody's magic beauty potions for pretty nails and strong bones and stuff, she is all about those. Especially because she's about to turn 50! Which is, in itself, crazytown.
Are these [FemBody supplements] totally healthy?
I'm not taking the diet aspect of them. I know people who are taking them, but I'm taking the bone mineral density activator, because being a dancer, and all the injuries I've been through, in order for me to stay fit, flexible … and being that I'm turning 50 years old, you have to think about that. You do. I also love the beauty one, for the hair, nails, and skin, and I take that one.
Did you ever take diet pills, or the underground diet drugs that people are talking about?
The word "diet" can set you up for a very manic mindset, and that's about deprivation. People look for quick fixes, happy pills, and the thing about that is, you need to take care of yourself. For me, it's about being healthy, being fit, getting your body moving, and self-acceptance, you know? The older I get, the more I learn about acceptance. I enjoy taking the products because I believe in them … You get clear focus, you feel good.
But don't you drink a lot of soda and eat junk food?
I love sugar. People know I love sugar. But everything in moderation.
Are you comfortable with your body?
I am. Right now, I think it's the most comfortable I've ever been. I still dance, I still exercise, and I think that's what has kept me going for so long. Life is good. [Being] Above five foot seven is my dream. To be five foot seven without heels! I love looking at swimmer's bodies, they're beautiful, runner's bodies, and dancers. I may not be the quote unquote dancer's body, but I feel like a million bucks when I'm dancing. And in my own mind, I'm seven feet tall.