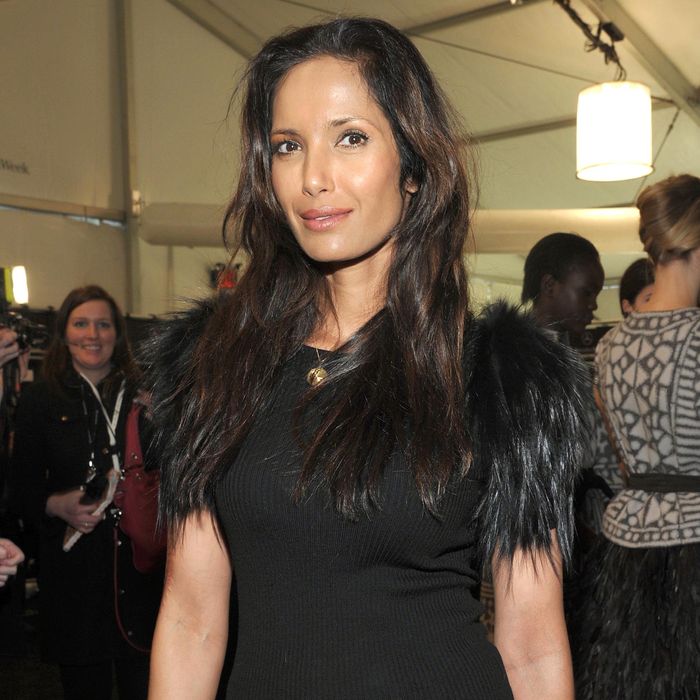 She's judging you right this second …
Photo: Mike Coppola/Getty Images
It may seem like a dream job but Padma Lakshmi insists that hosting Top Chef is not for the weak. Last night at the launch party for Gail Simmons's new book, hosted by Beauty & Essex (where Andy Cohen also told us that Martha Stewart will soon be making an appearance on Watch What Happens Live), we caught up with the Bravo host, who dished about life after nine seasons as a TV star, coping in the judge's chair, and her favorite show not named Top Chef.
Tom Colicchio told us he's still having fun on Top Chef. But tell us the truth: What, if anything, has become tedious or tiring after nine seasons on the show?
It's hard to eat that much every day. I mean, it's a lucky position, but it's hard. It's a lot of wear-and-tear on the body and the digestive tract.

What are some things you do to counteract that?
Um … Do you really want to know? I don't know if we should put this on the Internet. You do have to drink a lot of water and a lot of lemon or lime juice. I drink a lot of pure cranberry juice diluted with water. Fiber helps. You have to eat something nice and simple in the morning, because I used to just not eat until I got to work to save my appetite, but then you become ravenous. If you look at the early seasons of Top Chef, I am just scarfing whatever Quickfire or main challenge, and you can't do that because then your body goes into a weird rhythm that's not like life.

If you weren't with Top Chef, which show would you like to be with?
I like Jeopardy, but Alex Trebek does a pretty good job. I love that show, but I wouldn't want to be the host of anything.
If you had to come up with one category for "Final Jeopardy," what would it be?
Things your mother never told you.
Earlier: Tom Colicchio Tells the Truth: Does Doing Top Chef Get Boring?