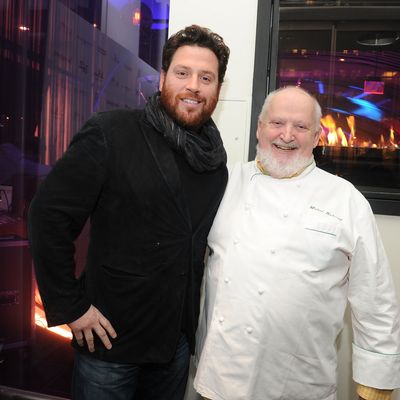 Pictured with Scott Conant, Richard (right) loves chefs, kisses, jewels, chocolate cake, and NYC.
Photo: Jason Kempin/Getty Images for Bon Appetit
While Todd English practiced self-restraint at last night's Vegas Uncork'd presented by Bon Appétit, Michel Richard gloriously showed no such restraint. He wouldn't touch the sliders ("Too big! Like me!"), but Richard exuberantly chatted with Grub Street about love, lust, Daniel Boulud's little bistro, which he thinks is called "BCBG," and oh yeah, some breaking news.
You seem like the kind of man who would have very romantic Valentine's Day plans …
Of course! I don't want to cook, I just want to be sitting and waiting for all the kisses. I want to give my wife wonderful jewelry and then take her to my friend at CityZen in D.C. Oh, the chef is fabulous there! But I'm going to call him and tell him that everything is to be pink, pink, pink!
Sounds very …
You know, we've been together for 32 years and I don't spend that much time with my wife, so that evening, I want to talk to her like I did 32 years ago: "I lovvvve youuuu my little cherie!" And wow, she loves oysters, so I want them all over us, and then I'll give my chocolate-cake recipe to the chef and he'll make it!
That's the kind of night that belongs in New York City, not D.C.!
I think you are right! When I come here, the restaurant I love is Le Bernardin. And also, my friend Daniel! He has … BCBG! No, what do you call it? It's kind of complicated, so many restaurants, Daniel. Oh, he is so charming, wonderful, and young. Well, no, he's not young! But he does have the same accent as Michel Richard!
Might you join Ripert and Boulud here, professionally?
Oh, yes! I'm going to see a location here in a few weeks. There are a few locations I want to look at, actually. The answer is yes! It will happen … at the end of this year. In 1974, when I used to live here, a friend said, "Don't ever leave New York; when you leave, you're out of town." And he's right. I've been out of town for too long.
What would you call it?
Central.
Another Central?
Yes, American food with a french accent. THEY NEED ME!