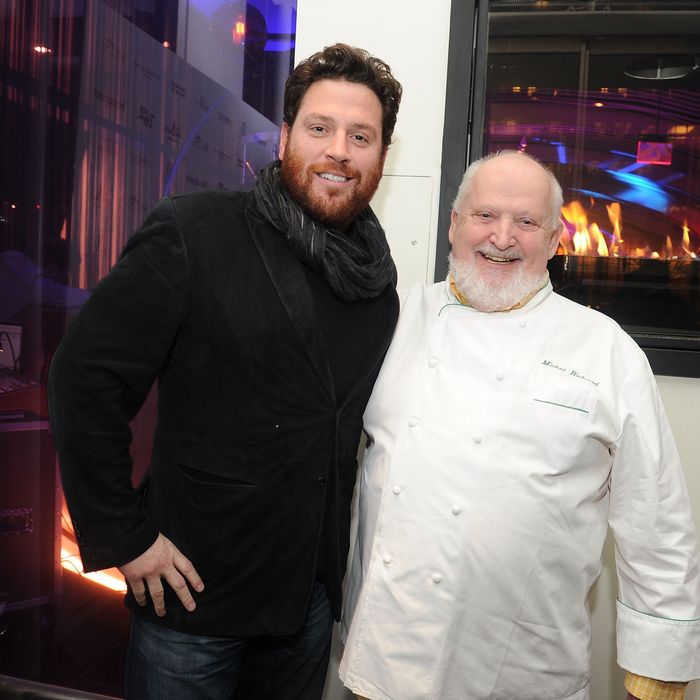 Richard, right, with fellow empire-builder Scott Conant.
Photo: ason Kempin/Getty Images for Bon Appetit
Add Michel Richard to the growing list of chefs who will open spots in AC's new Revel casino. The renowned Washington, DC, chef (who also says he has a New York location in the works) will open three spots in the casino. A new location of his casual bistro Central, a 120-seat breakfast spot called The Breakfast Room, and a spot called O Bistro and Wine Bar, which will be, according to the Press of Atlantic City, "a 25-seat circular bar overlooking the Atlantic Ocean that will offer small plates such as chicken wings, sliders, crab cake potato chip nachos, lobster roll, fish tacos, specialty burgers and Richard's signature goat cheese Caesar salad."
The addition of Richard means the Revel will now play host to restaurants from Jose Garces, Marc Forgione, Alain Allegretti, and Richard. We'd be surprised if any of the chefs actually spent much time in their respective kitchens, but it's an impressive roster nonetheless. The casino and resort will open April 2.
Chef Michel Richard to open three restaurants at Revel casino in Atlantic City [POAC]
Earlier: Iron Chef Garces Creates His Own Boardwalk Empire in Atlantic City