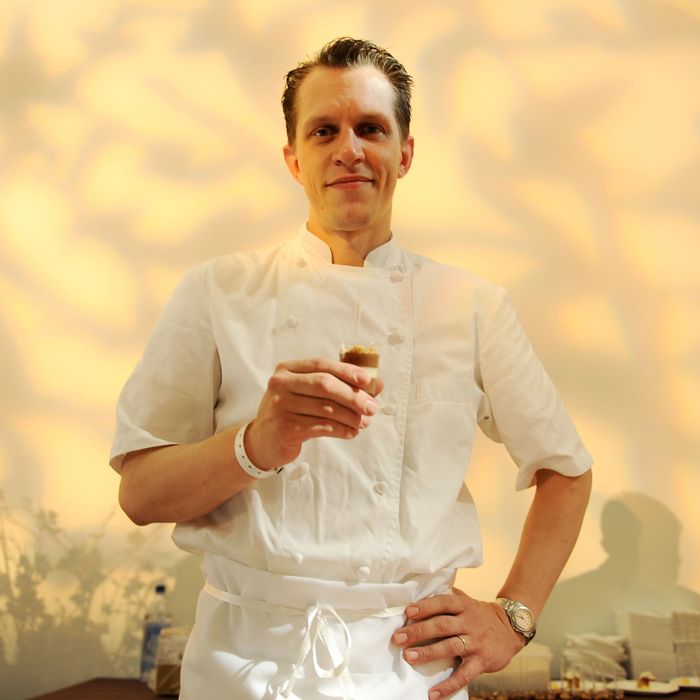 He says calling Chef Ripert "Eric" feels very odd.
Photo: Jason Kempin/Getty Images
Michael Laiskonis just announced the news that he will become the creative director at the Institute of Culinary Education (ICE), a new position created just for him, in which he could fulfill his dreams of teaching while also getting his book off the ground. Grub Street talked to Laiskonis about the new gig, the status of his literary career, and what it feels like to be liberated from restaurant life. Hint: He's so rested and nested that he made an old-school osso buco at home last week.
Well, there goes early retirement!
I know! In reality, I took all of a long weekend off. I jumped right back into things. As soon as the announcement came out, I started talking to ICE. So there was a vague plan from November on. But I've still had time to do other things, like the book …
Is there a title or publisher yet?
No, I'm still in the proposal stage and I'm finding the process enjoyable. Trying to undo fifteen years of a restaurant schedule, and then trying to find that writing schedule is difficult. I used to write at 2 a.m., and now I can reset that. But I'm also still trying to find the voice and constructing the spine of the book.
Your inner clock must be all thrown off now that you have regular hours …
It is. I totally eat differently now; I eat three solid meals a day. Last year's New York Diet was, like, coffee supplemented by Skittles. Now I'm cooking even more at home and really enjoying it. Last night was my first Valentine's Day off in eighteen years. When my wife got home from work, I had waiting for her a roasted poussin, like a baby chicken. Those are fun. On Sunday I did a seriously old-school osso buco, I haven't done that since I was a line cook!
Your wife must like you a lot more this way.
My wife says I'm happier, but I thought I was pretty happy before. I'd say that being well-rested makes a difference.
Have you taken time to eat out a little bit … especially before the new job kicks in?
We finally went to Raoul's, and we went to the new Empellón Cocina last week. We became quite regular at the taqueria. But Alex makes me feel lazy. He's got the next five places laid out already.
And what about Le Bernardin? Have you been back to try Laurie Jon's desserts?
I'm giving it some time … it's going to be a while before I can go back and fully appreciate the experience as a diner. I never ate there in all the years that I worked there. So it's going to take some time to go there and fully relax, not be hyper-attentive to everything.
Have you talked to Eric Ripert much?
I'm looking forward to how my relationship with Eric will now evolve. He'll always be chef with a capital C to me; it's weird to even refer to him on a first-name basis.

Any first-day-of-school nerves about the new job on March 1?
I've been slowly easing into the school for a couple weeks, but yes, it's the same feeling I had moving to New York: I was extremely nervous, it was the big bad city. But the chef community, at its heart, is very warm and welcoming. At some point I moved from being the apprentice to being a mentor … and I really treasure that experience. However, I have to back it up. I have to put my money where my mouth is.