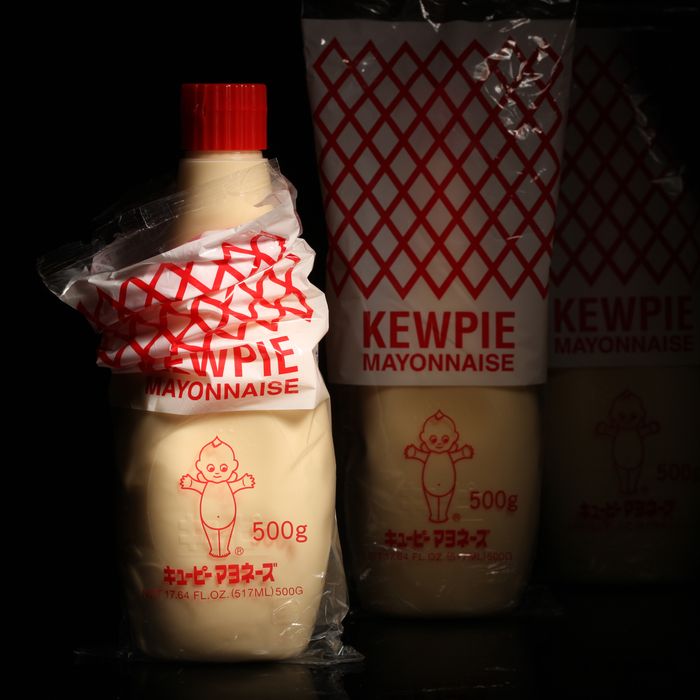 Don't let the creepy baby trick you into thinking the stuff's no good.
Photo: Melissa Hom
Lately it seems as if a chef can't open a restaurant without professing an undying allegiance to local produce, foraged ingredients, and farm-to-table everything. But behind closed doors, professional kitchens use all sorts of flavor-enhancing ingredients that are more likely to have come from a factory than a local farm.
Kewpie mayonnaise, the Japanese mayo with a baby on the bottle, which you've probably seen in Asian markets, is umami incarnate. It's no wonder chefs love the stuff. In addition to being a satisfyingly rich, slightly sweet version of the world's greatest and most versatile sauce, Kewpie gets a serious boost thanks to its kind-of-secret ingredient: Monosodium glutamate. This stuff makes everything taste better.
Chris Santos of Stanton Social and Beauty & Essex in New York uses Kewpie in shrimp dipping sauces, dressing for lobster tacos, and Mexican-style corn (he smears it and "bacon salt" over corn on the cob). Jordan Kahn serves a Kewpie-spiked banh mi at his L.A. restaurant, Red Medicine (with bread from Thomas Keller's Bouchon, no less). And David Chang, a dude who knows how to amplify the fifth flavor better than just about anyone, once told Food & Wine about his love of Kewpie, calling it "the best mayonnaise in the world."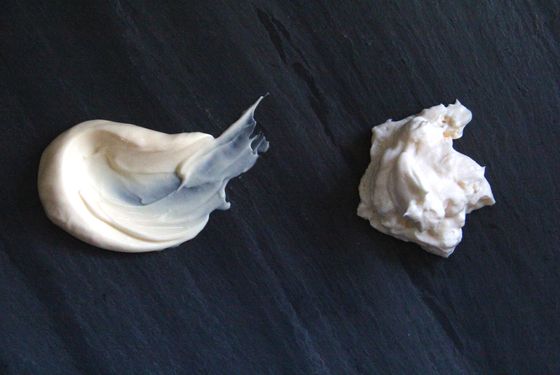 Kewpie mayonnaise (left) and Hellman's (right). Photo: Ian Knauer

Mayonnaise, as you probably know, is an emulsion of eggs and oil. To make it at home, you break a yolk into a bowl and slowly whisk in some oil until the whole thing gets thick and creamy. A dash of salt, a spoonful of mustard, and a squeeze of lemon juice and it's done. Industrial mayonnaise is actually very similar, ingredient-wise, to homemade, but it's made with heavy-duty equipment that bashes molecules together much more forcefully than a whisk. Take a look at the picture and you can see the difference between Kewpie (left) and Hellman's. The Kewpie is smoother, and slightly yellower than standard-issue Hellman's. That's because the Japanese stuff only uses egg yolks — Hellman's adds some whole eggs to its mix — which means it's slightly looser and closer in look and feel to homemade mayo. Kewpie also calls for a mix of vinegar, meaning its acidity is sweeter than it is in mayos dosed with lemon juice. (There actually are recipes out there for DIY Kewpie, but by the time you stock up on the dashi powder, Japanese mustard, and crystallized MSG, you're better off just buying a bottle of the real thing. Plus, doesn't making your own hyper-processed mayonnaise sort of defeat the purpose?)
You can pick up a bottle for about nine bucks, which might seem prohibitive when compared to regular store-bought mayo, but think of it as an investment: All of your food will taste better because you can sneak Kewpie and its miraculous umami-boosting powers into just about everything. Over the years, I've put it to use in obvious ways, like deviled eggs and souped-up aioli. But I think it's more interesting when used as something other than a simple replacement to regular mayo: Try dosing Caesar-salad dressing with a tiny bit (bonus: Kewpie's industrial-strength ingredients help the dressing stay emulsified) or adding a squirt to vegetable purées and mashed potatoes. Used sparingly, the stuff pumps up the flavor of anything you add it to, without making the end result taste at all mayonnaise-y. If you really wanted to go nuts, I guess you could even use it as the base for Paula Deen's chocolate-mayonnaise cake, but that would also require you actually wanting to make something called a chocolate-mayonnaise cake.
By far the best use I've found for it is a recipe of Broiled Mussels with Dynamite Sauce — a dish that could easily stand proud alongside Oysters Rockefeller and Clams Casino in the pantheon of extra-delicious, barely cooked bivalves. Plus, the Dynamite Sauce uses Sriracha, that other vaguely Asian condiment that chefs love.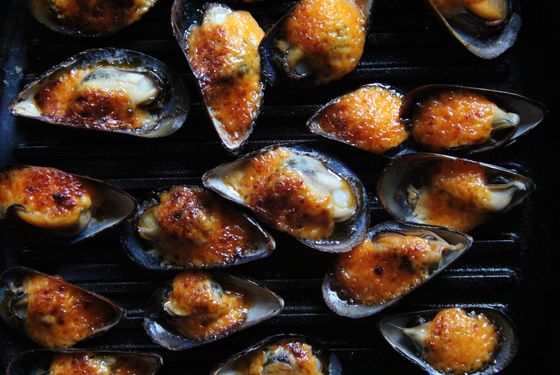 So good. Photo: Ian Knauer

Broiled Mussels with Dynamite Sauce
24 mussels, steamed
1/2 cup Kewpie mayonnaise
1 tablespoon Sriracha
1 small garlic clove, smashed to a paste
1 teaspoon sugar
Preheat broiler on high heat. Remove one half of mussel shell and discard. Whisk together mayonnaise, Sriracha, garlic, and sugar, then place about 1 teaspoon over each mussel. Place mussels on a foil-lined baking sheet. Broil 4 to 5 inches from heat until sauce is bubbling and begins to brown, 6 to 8 minutes.
Ian Knauer is the author of The Farm: Rustic Recipes for a Year of Incredible Food, which will be released on April 17.