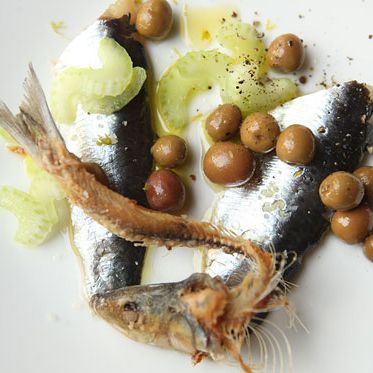 Isa's sardines: Maybe on the menu?
Photo: Melissa Hom
This Saturday, Williamsburg's much-loved, very woody Isa will officially launch brunch, but as with almost all Isa-related news, the exact details are a little unclear.
Owner Taavo Somer tells us the daytime service will be a "brunch-craft," which despite its name has nothing to do with Tom Colicchio. Instead, Somer says, "Craft teachers will instruct kids on various craft projects during brunch," which is in keeping with Somer's desire to just build stuff, and also sounds potentially very interesting.
As for what you can expect to actually eat while your kids craft away? That's still up in the air — chef Ignacio Mattos just tells us that it will be "the opposite of dinner service." So: brunch at Isa this weekend. There will definitely be crafts; there will probably be food.
Earlier: Taavo Somer Says Peace Out, New York