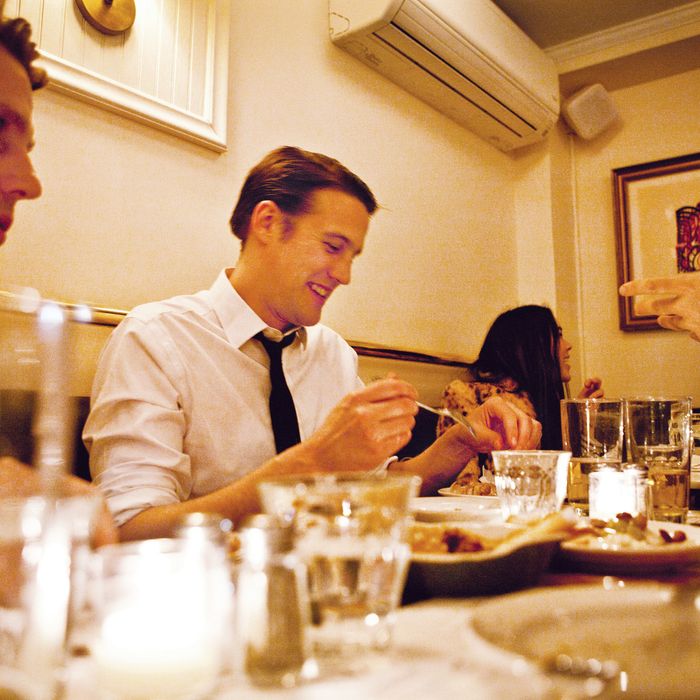 The cozy dining room at Jack's Wife Freda.
Photo: Danny Kim
In this week's New York, the Underground Gourmet checks out Jack's Wife Freda, a "spiffy new Soho café" that has already garnered "rollicking brunch and late-night crowds." Husband and wife Dean and Maya Jankelowitz met while working at Balthazar, and "they've created a "hospitable hangout with the understated style and savvy all-day service that one associates with their old boss, Keith McNally." The food could be called " South African Israeli Jewish Grandmother Cuisine," and it takes the form of fried fish ball fritters, "soothing" matzo ball soup, and "the best burger in Soho"; the restaurant receives three stars.
The UG also evaluates Southern specialist Bobwhite Lunch & Supper Counter, finding it "a Rockwellesque feeding station with its eighteen seats (six of them counter stools)," serving "casual, heartwarming fare." Fried chicken is "pretty much perfect: crunchy, crackling, juicy, relatively greaseless, and full of flavor," and other fare like pimento-cheese and pork chop sandwiches are not to be dismissed; Bobwhite also gets three stars.
Meanwhile, Robin Raisfeld and Rob Patronite also report that Peter Hoffman's former Savoy in Soho will reopen as Back Forty West this week. And, the Robs write, radicchio is so much more than "the Red One in the ubiquitous tricolore salad served in Italian restaurants"; here's a zingy crab-containing salad from the Beagle's Garrett Eagleton as proof.