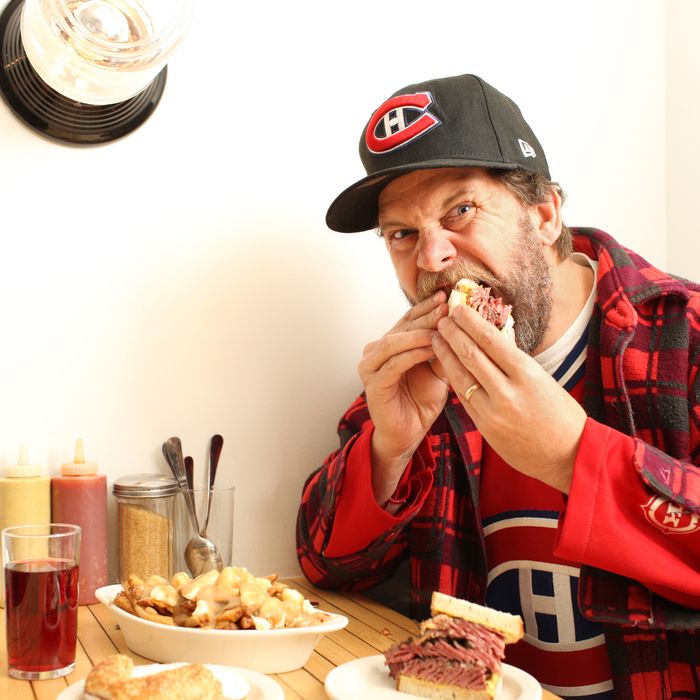 McInnes digs in at Mile End.
Photo: Melissa Hom
It's Fashion Week, and even though you won't see Vice co-founder (and progenitor of its Dos & Don'ts column) at any of the shows, he still defends Fashion Week culture — to an extent: "I don't think people understand the runway looks," he says."They don't literally want you to put a box on your head. The point is to get inspired." These days, he's moved on from Vice, but still scribes a daily street-fashion critique. What little free time he has — between his day job at the Rooster New York ad agency (which he co-founded), promoting his new memoir How to Piss In Public, writing a column for the libertarian webzine Taki's Magazine and acting as a professional provocateur on the Fox News show Red Eye — is spent hanging with his wife and two "midget roommates" (a son and daughter, ages 3 and 5), who he says dictate his diet of "shit food 50 percent of the time." You can catch him tonight at UCB's"Funny Stories" but first, read about Wolverine-shaped pancakes and the joys of having a Scottish stomach in this week's New York Diet.
Friday, February 3
I woke up to my wife telling me she's leaving. She was heading to our place upstate and she was taking the kids with her. I couldn't come because I was going to appear on the Fox News show Red Eye that night with the lovely Ann Coulter, so I kissed them good-bye and put a Dunkin' Donuts K-cup in the Kuerig.
For lunch, I went to a surf place near my office called Ditch Plains. My business partner and I split one hot dog order because it's two dogs (one covered in mac 'n' cheese and one covered in sloppy joe) on a huge bed of fries. We had a Lion's Head ale each and were so stuffed by the end, we had to pay a homeless man to roll us back to work.
That evening, I came home to an empty house and in the fridge there were some strange-looking meat cubes in a takeout container. I smelled those and then ate them. I also inhaled a container of cold spaghetti I found behind the Go-Gurt.
The show went well and we all went out for drinks afterward at the Pig 'n' Whistle with Ann. I drink Guinness with a Maker's Mark on the rocks as a chaser and I probably had several of each. I remember Coulter saying, "What's with all your tattoos? Have you not always had a high IQ?" but not much else.
Saturday, February 4
I took a car service across the river to Hoboken ($47) and took the train two hours upstate ($20). I bought a large coffee — taken with milk and sugar, because men who drink black coffee are just trying to be badasses — and some carrot cake at the station, but felt too hungover to eat it.
When I met the family upstate my wife told me she had the flu and had been puking all day. I told her I never get sick because germs can't survive in my pickled body. It's like throwing a ladybug in the fireplace. She wasn't in the mood to chat so I took the kids to a neighbor's house because his kids are around the same age. He was making homemade pizza and, excluding double dares, it was the most disgusting thing I've ever eaten in my life. (The most disgusting thing I've eaten on a dare was a spider. But if you put it in the back of your mouth, it just goes down pretty quick.) The dough was undercooked and tasted like wet Wonder Bread. The sauce was just squished tomatoes and the cheese was just fat slices of mozzarella. I ate it because I was starved, but none of the kids could get it down without dry-heaving so he made them some PB&Js. I think he was stoned.
We got back closer to 6 p.m. and the missus felt better. She made us fancy organic hamburgers with a couple of nice salads — one was arugula, sesame seeds, tomatoes; the other was baby greens, sunflower seeds, avocado, and heart of palm — and roasted potatoes. I thought it was delicious and the kids liked it, too, which is rare.
Sunday, February 5
Sunday is mommy-lie-in day and I always make the kids pancakes. I learned from Jim's Pancakes the secret to doing cool shapes is to put the mix in a squeeze tube like what ketchup comes in. I made my son a Wolverine face that looked more like a gay devil and I made my daughter a Simba that was much better. Later, I made a batch of small ones with a crumpled up raspberry in the center of each. The kids weren't interested so I ate them. They looked like used Maxi Pads but tasted WAY better.
Around noon I had some "Terrys." It's a dish created by Terry Richardson that involves slices of tomato, avocado, mayo, and cheese on top of toasted English Muffins (by the way, if your sandwich doesn't involve bread that's toasted, I ain't interested). I like to add some banana peppers and salt and pepper into the mix. After two of these, I had some "Gavins," which is my own recipe and involves dipping salt and vinegar chips in sour cream. This was the most stuffed I had been since the Ditch Plains incident on Monday.
Good restaurants are few and far between near our country place but there is one called Baker's Tap that we went to for dinner that evening. I asked for something called the "BLT pie" and got in a fight with my wife after I saw she ordered a "roasted salad" and a big pizza for the kids and a huge appetizer of Asian pork "wings" (split pork shank with Thai sauces). She always orders so much food, we end up going home with piles of leftovers that always just sit in the fridge and rot. She disagreed and things got heated. Then I got hit with a sucker punch.
I thought my order was going to be a bacon, lettuce, and tomato version of a chicken pot pie but it was actually a huge pizza pie with BLT ingredients, which I now had to eat because I had just chastised my wife for having eyes bigger than her belly. The next twenty minutes I was on some Cool Hand Luke shit as I piled slice after slice into my pie hole, just so I could be right.
Monday, February 6
We came back to New York late Sunday night. For breakfast I ordered a large coffee and a plain doughnut from the Turkish street vendor outside our office. He asked me how my weekend was and I told him I had undercooked pizza and got into a fight. He said his sucked, too.
I had a lunch meeting at NYAC where I downed two Guinnesses and bounced early because I was doing the Funny Story show on Sirius XM. At Sirius, I scarfed down two small bags of chips even though they cost about $1.50 each (can you believe that shit?)
By the time I got home, I was so hungry I could've eaten out a horse. I didn't have to though because my lovely wife had prepared a pork tenderloin with spinach and feta inside. She also served mashed potatoes and arugula salad. I reminded her I'd be documenting this and she suggested I swap the meal with the incredible Bo Ssam dish she made the previous week. Like all recipes you get from the Times, it takes at least six hours to marinate and another six hours to cook. I lied and said I would because I didn't feel like arguing but I didn't put it in here because lying is wrong.
Tuesday, February 7
I had two coffees at home but had to take my son to school before my morning dump so the next 40 minutes felt like a woman who was pregnant with three bowling balls.
For lunch, we went to the Brooklyneer, which is across the street from our office. They serve great Brooklyn-themed cuisine and I had the Greenpoint Sandwich, which uses the kielbasa from that Polish spot Steve's where nobody speaks English. The bartender forced us to have some Maker's afterwards because "it's good for digestion." Fucking bitch.
For dinner, the missus made some ravioli, which the kids devoured. The less interesting the meal, the more they like it and vice versa, which pisses me off because every time my wife goes the extra mile, they whine about it. Thanks, dicks, you just discouraged another amazing meal. I put food in their mouths and they take it out of mine.
I get screeners because I'm in the WGAE and one of my dad homies came by for a movie night we do once a month. I insisted we go to Nitehawk first for a drink — even though we've already seen everything there — because I wanted to get it on this list (they're showing Mad Max there tonight and you can drink in the theater). This was shitty to do because he's in AA. I scarfed down a Maker's Mark and he had a ginger ale. Then we went back to my place and laughed our fucking heads off at Leonardo di Caprio in old-man makeup. I probably had another six beers that night, right in front of him. Not cool.
Wednesday, February 8
In the morning, I met the photographer for this column at a Montreal-themed restaurant in Boerum Hill called Mile End. I had a Montreal bagel, which is nice and skinny, and not the ginormous dough-ball you New Yorkers eat. I also had poutine, which is a layer of fries, then cheese curds, then gravy, step and repeat into heaven. Every bite you take takes another bite out of your hangover. I ended this pig-out fest with a smoked meat sandwich like the one from Schwartz's, which is a place that almost always has an hourlong lineup back home in Canada. Mile End's opening another one on the Bowery in March and il va être incroyable mon hostie de tabernac!
I worked late and missed dinner with the kids, so I stopped by The Cardinal on the way home. It's run by the bassist in my band but I can say without prejudice, this is the best Southern food north of the Mason-Dixon line. I sat with him downstairs and he made me eat portions of fried chicken, deviled eggs, fried pork chops, smoked trout, and bunch of other shit we wanted to be documented. They make their own bacon, which is surprisingly complex, and tastes like God fucked Gisele Bündchen on your tongue after winning the lottery.
I stumbled home around 10 p.m. and peeked in on the kids who were asleep. "I just ate a delicious and very elaborate meal," I whispered to their sleeping heads. "And there's nothing you can do about it."