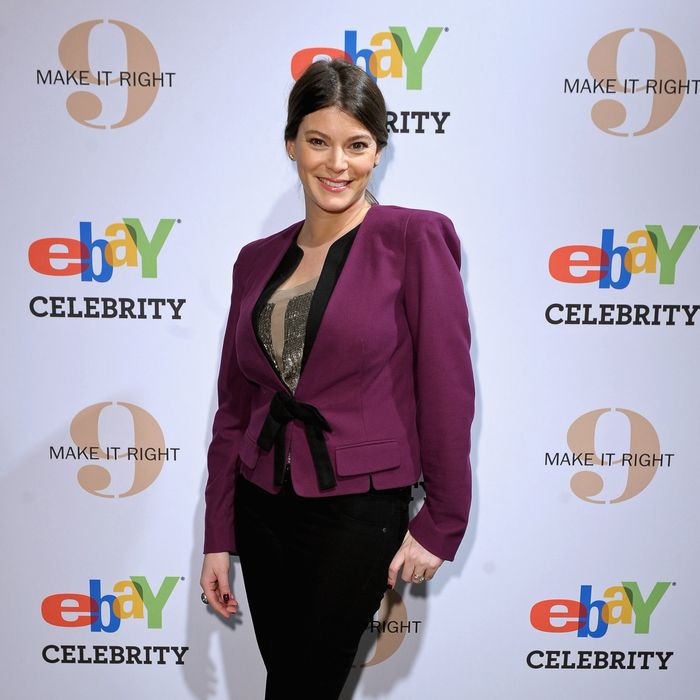 Says her memoir is not so serious.
Photo: Getty Image
It shouldn't surprise anyone that Gail Simmons, the chocolate-dipped Ryan Seacrest of the food scene, gave herself a highly disciplined schedule for writing her book, Talking With My Mouth Full. Funnily enough, in order to make her deadlines, her mouth was full of a lot of random, unfancy things. Last night at the premiere of eBay Celebrity and Brad Pitt's Make It Right Auction, Grub Street caught up with Simmons to dish on her authorial eating habits, and whether or not she was afraid of an Alice Waters literary takedown à la Momofuku.
What were you eating while writing your book?
So, I wrote this book in a very specific way. I had to be disciplined because it's not my only job. For four months, basically from January through the end of April, I made a schedule where every other day throughout the week, I wrote for three hours. Three times a week for three to four hours, I sat down in the afternoons, always from lunch till four. So it always included lunch. But it was always rushed … so I sat with a very odd array of things. Like half a turkey sandwich, a cut-up apple, and a chocolate Popsicle. Or a bunch of baby carrots, a thing of hummus, and leftover Chinese takeout.
How do you think Alice Waters is going to respond to your book? She just tore apart the Momofuku one.
Alice, I would love you to read it. But my book is just fun. It's not serious. It's not a cookbook. It's not making a major statement about the agricultural crisis in America right now, which I understand is an important topic, but it's not why I wrote this particular book. I just hope that she can sit down with a glass of bourbon and read the book, and eat some chocolate peppermint.