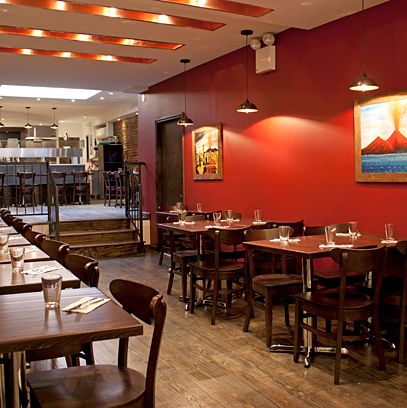 Photo: Michelle Feffer/New York Magazine
Just when you thought the market for Neapolitan pizza had reached saturation, along comes Kesté's Roberto Caporuscio and his old mentor Antonio Starita, who've teamed up to open Don Antonio in Hell's Kitchen next Tuesday, February 7. In certain pizza-world circles, this is huge — like Gennaro Lombardi rising from the grave to sling slices with Dom DeMarco. For the uninitiated, Starita is third-generation pizza royalty. Along with Sophia Loren, his family's Naples pizzeria starred in the Vittorio De Sica film L'Oro di Napoli. The man has served pizza to popes. He has tomato sauce coursing through his veins. In short, there is nothing about dough he doesn't know. His student, Caporuscio, the U.S. president of the Association of Neapolitan Pizza Makers, is no slouch either.
Together, they've compiled a menu that reads like a last-meal request from a Neapolitan-pizza addict on death row. There are red pizzas, white pizzas, fried pizzas, fried-and-then-baked pizzas, stuffed pizzas, calzones, and many other doughy delights. The wood-fired oven, it goes without saying, is custom-built from volcanic soil and stone. There's room for 70 devout pizza worshiopers, and an Italian-accented cocktail list that employs both Campari and black squid-ink. Here's a look at the menu and the space.
Menu [PDF]
Don Antonio, 309 W. 50th St., nr. Eighth Ave.; 646-719-1043