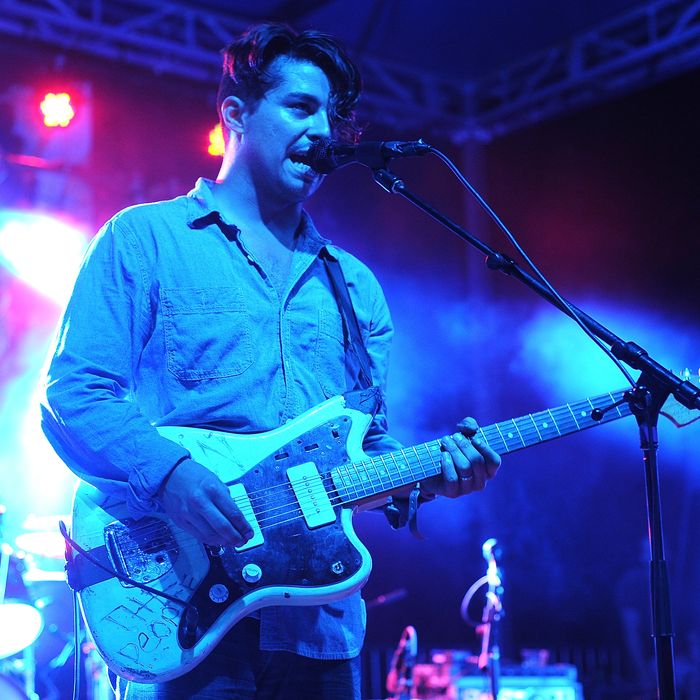 Delta Spirit's Matt Vasquez.
Photo: C Flanigan/Getty Images
If you want people to buy your new record, it's hard to beat free tater tots and cheap beer as marketing tools. Over the weekend, the band Delta Spirit hosted a Brooklyn pub crawl to promote their new self-titled album. Along three crowded afternoon stops at the Manhattan Inn, d.b.a. Brooklyn, and the Lovin' Cup, the band played tracks off the album and hung out, with lead singer Matt Vasquez handing out whiskey and gratis tots to people along the way.
So how'd the band get the idea — one that we actually can't believe we haven't seen employed more often — to promote their album by hanging out drinking and eating fried food at a bunch of bars all day? Vasquez, who just moved to Greenpoint after years in Southern California, says it was his friend's suggestion. "We thought it was a great idea. If you ask any other person that was going to put out a record if they want to do a pub crawl, and they say no, they're idiots."
The crawl itself was capped with a performance at Public Assembly. The small crowd was a mix of the band's friends, people who'd gotten on the list through a promotion with Brooklyn Vegan, and pub-crawlers who had "won" spots along the way. "This has been, like, the funnest day ever," Vasquez said as he took the stage. There was no opener, and the show had a spare, impromptu feel. But it was free, the very well-lubricated crowd was into it, and, to be honest, the band basically killed its set of old and new songs.
When things were winding down about an hour after the band first took the stage, Vasquez — as drunk as anyone in the crowd — decided to play one more song as a sort of encore to the very bare-bones show. He was feeling generous.