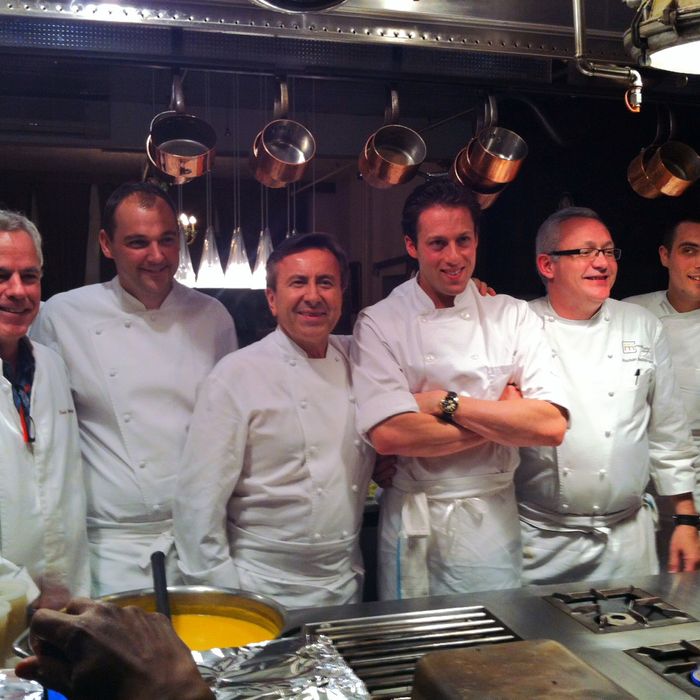 The best of the best on Saturday night at the Bouley Test Kitchen.
Tom Colicchio wasn't the only talkative chef over at the Gold Medal Dining Experience presented by All-Clad. Grub Street sat down with David Bouley (who hosted the event at his magnificent Test Kitchen) and EMP's Daniel Humm, who talked between themselves about the intensely gratifying aspects of their famously grueling jobs and, in the spirit of Valentine's Day, the subject of sensuality — which had Humm blushing, and Bouley at his best.
David Bouley
I really wanted to be back in the kitchen. And now people know I'm there. After a few minutes of the experience, they also know I'm going to ring their bell. That's the high for me: ringing their bell. Some chefs don't get that intimate with their customers, but that's what makes me jump out of bed in the morning. We know more about our customers than their spouses do, more than their own mothers do. There's a whole level of depth there.
Daniel Humm
For me, I'm firstly addicted to the cooking. But another aspect besides the guests are the people in the kitchen. Trying to have your hand on the pulse in there is the most important part. I try every single thing in that kitchen — every sauce, everything. It's the only way I can feel if the cook has it in check or not. In one taste, I 100 percent know if my cook is hungry, full, thirsty, tired, in a bad mood … I know it in one taste.
Daniel Boulud
Many chefs don't do that.
Daniel Humm
Actually I'm going to see him [points to Bouley] Monday night. My whole career, I haven't been good about honoring Valentine's Day. So I'm taking only my wife to Brushstroke on Monday. I'm really excited.
Daniel Boulud
We'll have to do what M.F.K. Fisher says: Put them in a sensual mood. She was the first to talk about what it's like to make love after certain kinds of food. Oysters, truffles, it's all true.
Daniel Humm
Certain flavors make you like … oh wow. Smelling a good truffle … it makes you high. Seafood that smells like the ocean is so sensual, there's something about it that makes you … crazy almost.