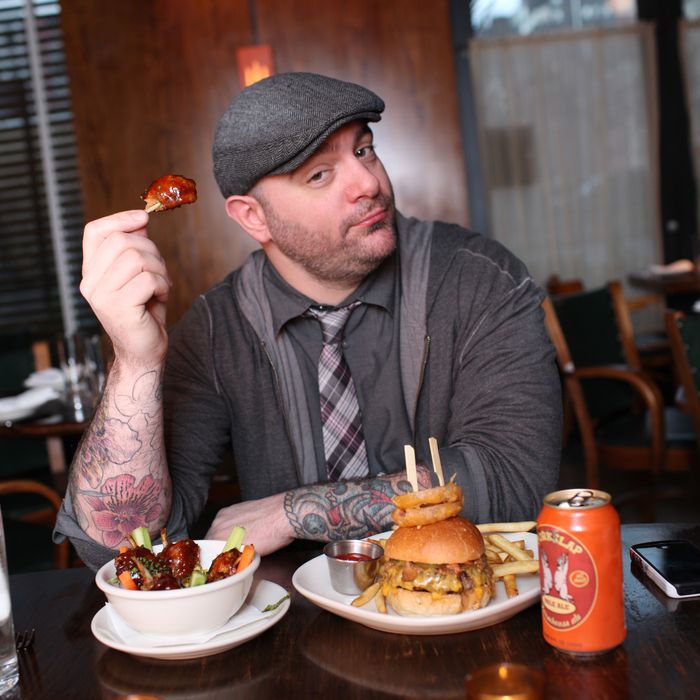 Santos, at Burger & Barrel, "I'm fairly allergic to shellfish. If I want to be food-poisoned, I will eat a healthy amount."
Photo: Melissa Hom
Chris Santos, chef and partner of Beauty & Essex and Stanton Social, and a judge on Food Network's No. 1 ranked show Chopped, is the first to admit that he doesn't lead the healthiest lifestyle. Yet considering his late nights out, love of taco stands, and general aversion to sleep and breakfast, the 40-year-old chef leads an exceptionally successful life. Read about his fun times, favorite drinks, and fairly intense food allergy in this week's New York Diet.
Friday, February 10
I eat very late at night, which is why I'm a fat-ass. And also why I never wake up hungry for breakfast. But my girlfriend is a fitness guru and for the last fourteen years, I've been training at Gleason's as a fighter, so I at least know to eat something before working out. This was a gym morning, so I had a Chocolate Zico coconut water with a chocolate-and-peanut-butter Zone Bar.
For lunch, I had a son cubanito from Funini. It's a new panini spot on the LES. My assistant eats from there every day, so I was like, "Okay, get me one, too. I have to try this." Then I worked Beauty & Essex tasting some potential new "jewels on toast," our versions of bruschetta and crostini. Nothing was quite there yet.
Expedited at Stanton Social. It will be seven years old in April and we've never been busier. I don't mean to sound arrogant, but everyone works so hard and it's really a great feeling. And Beauty & Essex? Sometimes I can't even sit in the office there because the phone rings nonstop and it makes my head spin with insanity. A good problem to have!
On the way home from work, I made a pit stop at the Tacos Morelos Stand on Avenue A for two chorizo tacos and a torta milanesa de pollo to split with my girlfriend. Mexican food is my favorite and this is good stuff. It's open all night, plus they deliver, which is great for me because I eat many times a week around 2 a.m. or 4 a.m.
Saturday, February 11
Had a large mocha, with an extra shot and one Splenda, from the Bean on Second Avenue. I live on First and 1st, and go there all the time. For some reason, that drink is right for Splenda.
For lunch, I had a mini-fried-chicken-biscuit at Beauty & Essex. Then I went on a few personal errands midday and stopped at Baoguette for a bánh mì.
Worked the Saturday night service, and late night I grilled on my terrace — some New York strips with bacon-braised kale and a simple roast-garlic pan sauce alongside one of my guilty pleasures: Alexia onion rings. They're so good. Like, THEY'RE SO GOOD.
Sunday, February 12
I walked the dog and stopped by Beauty & Essex, even though it's my day off, for chilaquiles with red onion, feta cheese, and sunny-side-up egg. I took it home to eat in front of the Internet, because I'm obsessed with boxing and could read boxing news all day. Meanwhile, my girlfriend watched Law & Order nonsense.
We had dinner at Macondo, my "go-to" neighborhood spot. Croquetas de jamon, lamb and bacon sliders, arroz con pollo, patatas bravas, Rioja … We came home, watched Boogie Nights, some Family Guy, and sat on the couch with Tate's chocolate-chip cookies. They're the bomb. Cracktastic. Another reason I'm a fat-ass.
Monday, February 13
No breakfast.
Had lunch at DBGB — Thai-sausage-basil fried rice, Vermont Cheddar with hash browns, Amish chicken, Brussels sprouts, rye-crusted calamari. I drink a ton of water, all day, all night.
I worked the rest of the day, then had dinner at Burger & Barrel. Ate ancho-chile barbecue wings and the Bash Burger, with the caramelized onion and bacon-jam. Josh Capon keeps winning Burger Bash with that one.
We took a walk over to Magnolia Bakery, because my girlfriend lives in L.A. and she was all excited about it. Took home a Snickers pie, a blondie, one Hostess cupcake. I'm not a huge fan of their cupcakes, but I have to say, that Snickers pie was really good.
Tuesday, February 14
We were slammed all day and night, being Valentine's Day. So I drank water and just tasted our dishes as we prepared for the rush.
Worked late and then took my girlfriend to Maison Premiere. I swear to God, I've never had drinks like that in my life. We both had the Blind Boy Paxton, which is mezcal, white rum, lime, amaro, chile-cinnamon syrup, egg white. She doesn't ever order food, I do it for us, so I got chicken and okra gumbo, black-bass ceviche, and she had oysters. I'm fairly allergic to shellfish. If I want to be food-poisoned, I will eat a healthy amount of shellfish and I'm out of commission for the day.
Wednesday, February 15
Woke up and had a lunch meeting about my new hot sauce, a collaboration between myself and Steven Pearcy from the rock band Ratt. We drank hot-sauce-spiked margaritas. The sauce isn't out yet, but it's made by High River Sauces. Had some of Stanton Social's hand-pulled chicken arepas prepared with my new hot sauce and chile-rubbed pork ribs.
At night, I bounced around some LES bars. I've been cutting down on going out at night, but "cutting down" means I only do it two nights a week. At 4 a.m., I split a Sunny and Annie's sandwich — chicken cutlet, tomato, avocado, bacon, light mayo, Sriracha. It's on Avenue C; their sandwiches are fucking unbelievably good, off the chain. You would never know unless you go. I probably get a sandwich there late at night a couple times a week. Another thing I probably need to rethink!