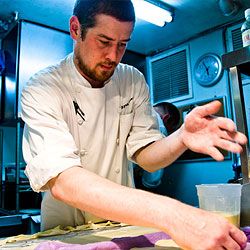 Skeen, in more productive days.
Photo: Courtesy Allen & Delancey
Possibly the city's most notorious stove-hopper, Ryan Skeen has crashed through 5 & Diamond, Allen & Delancey, Fish Tag, and more, all in the course of a few years — and now we learn he's done at Pera Soho after two months. Owner Burak Karacam confirmed the news via a rep, writing: "The Pera organization and Ryan Skeen have chosen to part ways as the result of disparate operational and culinary styles that made a continued association untenable to both parties." Dude is clearly talented (as a recent meal at Pera Soho attests), but he just can't seem to hold down a job. Here's hoping Skeen gets what he needs, whatever that may be.