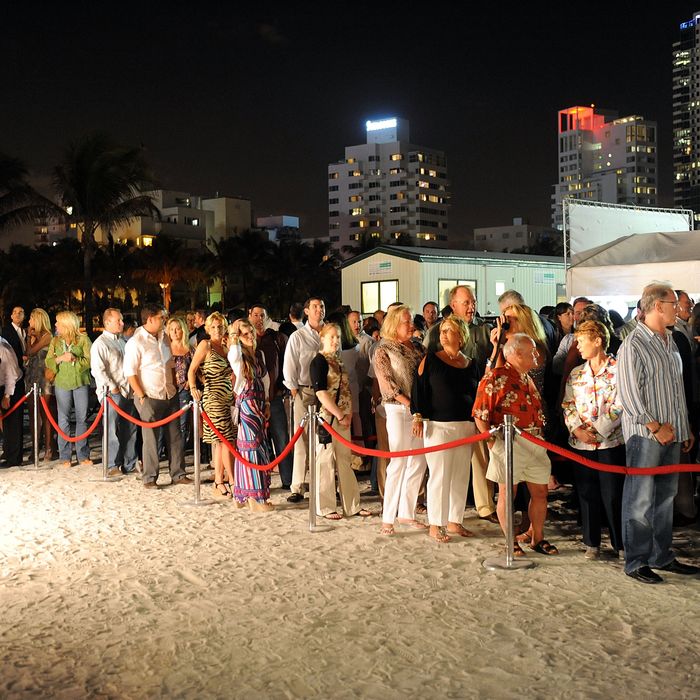 There's a way to skip this line, if you know what you're doing.
Photo: South Beach Wine and Food Festival
This Thursday marks the kickoff of the SOBE Wine and Food Fest, Lee Schrager's annual Miami gathering of food lovers, celebrity chefs, food and booze marketers, and fans just hoping to meet a Food Network star in person. The festival gets bigger every year, and 2012 won't be any different. That means anyone going can also expect, in addition to networking and revelry, maddening crowds and endless lines. But, if you follow a few guidelines from the experts, you'll cut down on the headaches and cut through the foodie fray a little more easily.
Don't schedule more than one or two events each day: You'll end up being overstuffed and exhausted if you try to cram in as many events as possible. Instead of hitting every event, focus on going to the one or two each day that really interest you most. Miami native and Michael's Genuine chef Michael Schwartz points out, "It's easy to feel overwhelmed by the sheer size of the festival. You can't see it all, so stay focused."
Don't overdo the food samples: The goal is to try the best food, not to stuff your face full of everything. Don't just blindly go from booth to booth sampling everything in your wake. Scout out the room first and decide what you want to eat; then revisit your favorite stations. "Look for dishes you really want to sample and get to those first," advises Michelle Bernstein. "After about an hour of station-hopping you'll start getting full. It's best to miss out on stuff you weren't hot to try anyway."
Skip the lines: Lines at event tents can be frustratingly long. If you'd rather avoid the wait, head to the back — there is usually a separate entrance.
Get to events early: Being fashionably late to an event means you'll probably miss all the good food, but still get wind up stuck in the crowds. Since almost all of the events end up selling out and hitting capacity, your goal should be to get in, eat what you like, and get out. "Usually it's not cool to be the first one at the party, but in this case it works to your benefit," says Wylie Dufresne.
The best spots for chef-stalking are restaurants, not events: Yes, you'll see plenty of chefs at the various events, but those events are packed, and the chefs are pressed for time. But out-of-town toques love to check out new restaurants and bars while they're in Miami. That means you can expect to see plenty of big names at places like The Dutch and Jean-Georges Vongerichten's new J&G; Grill in the St. Regis hotel. And Wylie Dufresne says he's going to hit up an old favorite, too: "I have never been to Michael's Genuine and I am going this trip — I'm excited about it."
Don't drive: Traffic is bad and parking is worse, so you'll want to walk whenever possible. The festival also has golf carts on the beach. Ask nice, and you can usually hitch a ride.
Crash the after-party at the Dream Hotel: On Friday night, Geoffrey Zakarian is hosting a chef's after-party at the Dream Hotel. It's already looking like an early contender for the best party of the festival. If you're going to try to sneak your way into one, this should be it.
Hit the Q After-Party: The barbecue event called The Q is one of the festival's most popular — it also costs $300. For a third of the price, you can hit the Q After Dark party instead. (It's free with Q tickets.) Plus, the event is held on the first night, so everyone will be extra festive.
Believe it or not, there are still hotel rooms available: For the true last-minute planner, don't worry about crashing on a sofa. The festival might only be two days away, but the new St. Regis, and the Ritz Carlton Key Biscayne still have rooms, starting at $559. (They are a bit away from the main action, but more pristine beaches, tranquility, and luxury make it worth the drive), and the Betsy (home to BLT Steak) on South Beach has rooms starting at $699 — a little pricey, but you can always split the costs with a friend.