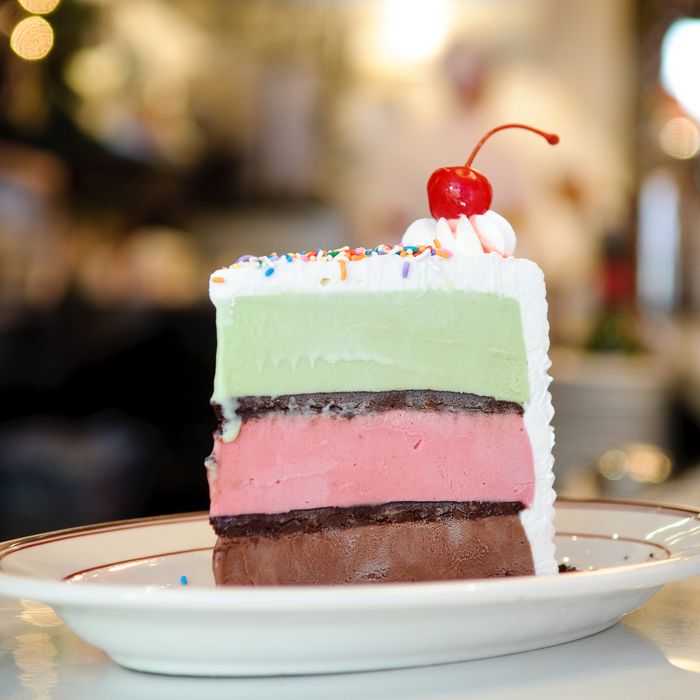 The ice-cream cake at Parm.
Photo: Matt Dutile
It's time to think seriously about sweets: When Valentine's Day is around the corner, and the doldrums of winter (even one this mild) have taken hold, there's something about dessert that speaks to everyone. And these days, more than ever, pastry is getting the due that it deserves: Food & Wine is launching a search for the country's best new pastry chef; Top Chef keeps churning out seasons of its pastry-only spinoff; Johnny Iuzzini and Michael Laiskonis were rightfully heralded as stars when they recently departed their respective restaurants; and every other show on TV is about cake wars. We won't call it a sugar renaissance, because dessert never went away, but pastry is undeniably playing a larger part in the culinary conversation than it ever has before.
Television and food glossies might be pushing the surge in public interest, but there's no doubt the movement is being led by the country's ever-growing roster of skilled, brilliant pastry chefs. Dessert menus are no longer filled with standards like molten chocolate cake and simple crème brûlée. Chefs are using savory elements and seasonal ingredients in shockingly effective ways; classic childhood treats like milkshakes and doughnuts are being both honored with ur-versions and totally reinvented with modernist techniques; avant-garde chefs are completely ditching traditional cake, custard, and pie formats and turning out conceptual desserts that are almost unclassifiably inventive. (And one industrious brewery is even turning beer into dessert.) In fact, the ethereal, almost whimsical nature of dessert allows pastry chefs to push their craft forward harder and faster than their savory counterparts ever could.
To find all the picks on this list, Grub Street's editors scoured their respective cities, then put the call out to critics around the country and chefs such as Andrew Carmellini, Michelle Bernstein, and Seamus Mullen. What we found were some of the most impressive, eye-popping creations we'd ever seen. We started with New York — it's our home base, after all — and arranged the rest of the picks alphabetically by city. (Jump directly to Boston, Chicago, Los Angeles, New York, Philadelphia, or San Francisco.)
These aren't the 101 best desserts in the country; and they aren't the 101 newest, either (we couldn't resist throwing a few old favorites into the mix). But taken as a whole, the creations on this list represent what's happening in America's pastry world right now. In short, these are 101 desserts made by people working at the top of their collective game — and every one of them is definitely worth saving room for.