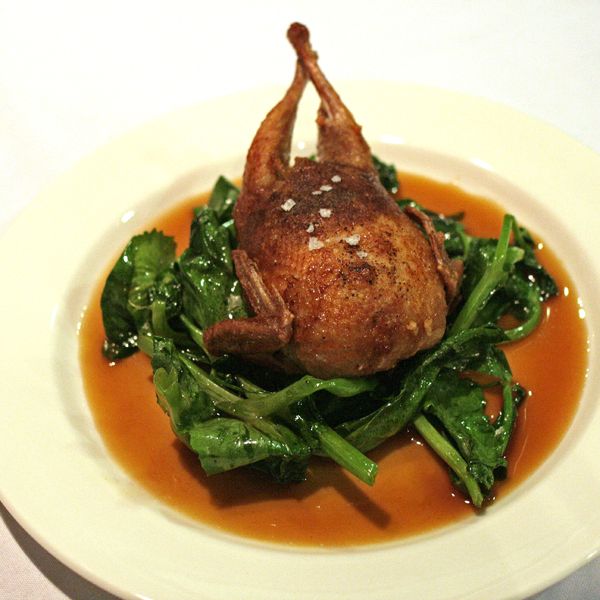 Masak's roasted quail stuffed with rice, chestnut, lotus seed, salted duck yolk, and kale.
Photo: Courtesy Masak
If you're not in labor, consider digging into some traditional good-luck dishes for Chinese New Year, which begins Monday. According to the Chinese zodiac, the dragon is considered the most powerful sign, and these restaurants have created unique menus to incorporate traditional Chinese cuisine that represents the joy, prosperity, and fortune expected in this New Year. A few symbolic dishes include clams to represent wealth, noodles to signify longevity (the longer, the better), whole fish to indicate a wish for abundance, and lobster, for which the Chinese translation is "dragon shrimp." And what's a new year without fireworks? Many restaurants will be serving firework-inspired desserts to symbolize warding off evil spirits!
An Choi
Join An Choi on Monday, January 23, for a celebration of Tet, the Vietnamese New Year, with a special $40 prix fixe menu featuring traditional Vietnamese dishes, such as Banh Tet — Sticky Rice Tamale stuffed with Pork Belly and Mung Bean; Vietnamese Charcuterie Plate — Homemade Gio Thu & Gio Bo (Headcheese & Beef Sausage) with Vietnamese Pickles; Thit Heo Quay & Thit Kho with Xoi Gac — Roast Suckling Pig Caramelized Pork Belly with Red Sticky Rice; Goi — Vietnamese Salad; Sup Mang Cua — Crab & White Asparagus Soup; and Che — Sweet Rice Soup with Silken Tofu & Ginger Syrup. No vegetarian options will be available.
Annisa
Celebrate the new year with a special lucky six-course tasting menu featuring Chinese-influenced delicacies like Maine Sweet Shrimp Sashimi with Sea Urchin Roe and Fat Choy, Seared Foie Gras with Soup Dumplings and Jicama, Steamed Whole Butterfish with Scallions, Ginger and Baby Green Vegetables, Wagyu with Kumquats and Chilis, and a Raspberry Firecracker Pavlova. This special will be available for a prix fixe of $105 in addition to Annisa's regular menu items.
BuddakanFrom Sunday, January 22, through Thursday, January 26, Buddakan will honor the lunar new year with additional menu items such as Monk's Vegetables "Fat Choy" with Chili-Ginger Sauce ($12); Mandarin Slow Steamed Halibut with Shaoxing Wine, Scallion, and Twice-Cooked Bean Thread ($26); 2 ½ Pound Wok Seared Lobster in a Tangerine-Anise Glaze, served with a Sesame Shark's Fin Salad ($42); and a whole Pressed Suckling Pig Terrine with Sweet Rice Dumplings to be shared ($38). Finish up with the Firecracker Bombe — White Chocolate and Cherry Mousse, Dragon Pearl and Chocolate Sorbet ($12); the exploding noise of the firecracker is thought to scare away all evil spirits and misfortunes.
Café China
On Monday, January 23, join Café China for three traditional Chinese New Year specials. In addition to their regular menu of authentic Chinese cuisine, the restaurant will be serving a Lamb Hot Pot ($28), Steamed Pork in Lotus Leaf ($19), and Lightly Sautéed Chinese Broccoli ($14), as well as a special cocktail.
FOUR at Yotel
To celebrate the Chinese New Year, and to honor the Chinese culinary influences throughout the menu, FOUR is offering a special four-course sharing menu at $32.50 per person (also available à la carte). Each course symbolizes Chinese New Year traditions: Good Fortune Rice Dumplings with sweet miso and tamarind; Long Life Oriental Long Noodle with lemongrass broth, shrimp, Chinese long beans and hibiscus; Prosperity Whole Roasted Poussin water with chestnuts, cashew, snap peas, and carrot; and Wealth Lychee Panna Cotta with orange sabayon and orange fan. This dinner menu is available from January 23 through February 6. On Wednesday, January 25, from 10 p.m. until late, FOUR will host "Enter the Dragon at Yotel's Kung Fu Palace" featuring Lady Gaga's Tour D.J., Lady Starlight, D.J. Steve Lewis, dancers, contortionists, and more.
Joe's Shanghai
On Monday, January 23, Joe's will be honoring customary Chinese New Year specials with traditional sauces in symbolic color schemes. Expect a Lean Pork dish ($20.35), Good Luck Dried Oysters served with traditional roots ($26.95), a Fresh Mushroom Medley in a golden house sauce ($26.35), Fresh Lobster with Dried Egg Yolk ($32.95), and Fish Cake with a Tofu Skin Wrap ($25.35).
La Mar Cebicheria
Starting on Monday, January 23, La Mar Cebicheria will offer Chinese cuisine with Peruvian ingredients used in the Chifa style. In Chinese culture, the number eight is believed to be lucky, and executive chef Victoriano López has created eight bar bites in the Chifa style for $8 each. Cocktail director and resident pisco expert Saul Ranella is mixing a special pisco cocktail infused with Chinese spices for $8. The menu will be available in the downstairs bar area Monday through Friday, from 3 to 7 p.m. through February 3.
Macao Trading Co.
The restaurant will be preparing several Portuguese-influenced specials to commemorate the year of the dragon, including a Seafood Hot Pot ($24); Buddha's Delightful Spring Rolls Buddha's delight ($8), a traditional new year's dish, wrapped in a spring roll; Golden Curried Clams, Crispy Noodles, and a Black Bean Lobster Sauce ($15); Whole Steamed Fish For Two—Steamed with Ginger and Scallions served with your choice of two sides (market price).

Masak
Beginning Tuesday, January 24, join Masak for an intimate dinner featuring a special menu by Chef Larry Reutens. Chef Reutens will use his own unique culinary experiences to offer a one-of-a-kind interpretation of traditional Chinese New Year cuisine, featuring Yue Sang Salad with arctic char, carrot, radishes, pomelo, peanuts, sesame seed, and a blood orange vinaigrette ($15); Bamboo Mushroom and Crab Soup ($12); and Roasted Quail stuffed with rice, chestnut, lotus seed and salted duck yolk, and kale ($22). Finish up with either Carrot Cake or Tang Yuen Dumplings (both $8). A preview of this menu will be available Saturday, January 21 and Sunday, January 22.
Mehtaphor
Indulge in a six-course dinner of Chinese-inspired dishes on Monday, January 23, from 5:30 to 11 p.m. A prix fixe of $75 will include a Cucumber Ginger slaw, Sesame Scallion Shrimp, Crab Almond Roll with Chili Reduction, Garlic Tomato Pork Dumplings, Persimmon Green Chili Duck Mirin Bokcho, and topped off with a Chocolate Steamed Bun with Red Bean Ice Cream for dessert. Each dish will be complemented by an elegant wine.

TALDE
Monday, January 23, TALDE will be serving a whole lobster steamed in XO sauce and Chinese beer accompanied by fingerling potatoes, corn and scallions ($32) as their Year of the Dragon special. TALDE will don festive Chinese New Year decorations, and Chinese newspaper will serve as a tablecloth for guests who order the lobster. TALDE bartender and partner, John Bush, will create a special cocktail for the evening as well.
Ted and Amy Supper Club
Ted and Amy Supper Club will ring in the Chinese New Year this Sunday, January 21, at 8 p.m. with guest chef Diana Kuan of Appetite for China. At a prix fixe of $45, guests will enjoy Shrimp and Chive Dumplings with Ginger-Soy Dip, Mushroom and Watercress Noodle Soup, Red-Cooked Chicken with Chestnuts, Black Sesame Ice Cream with Almond Cookie Crumble, and Bulldog Gin Welcome cocktail.