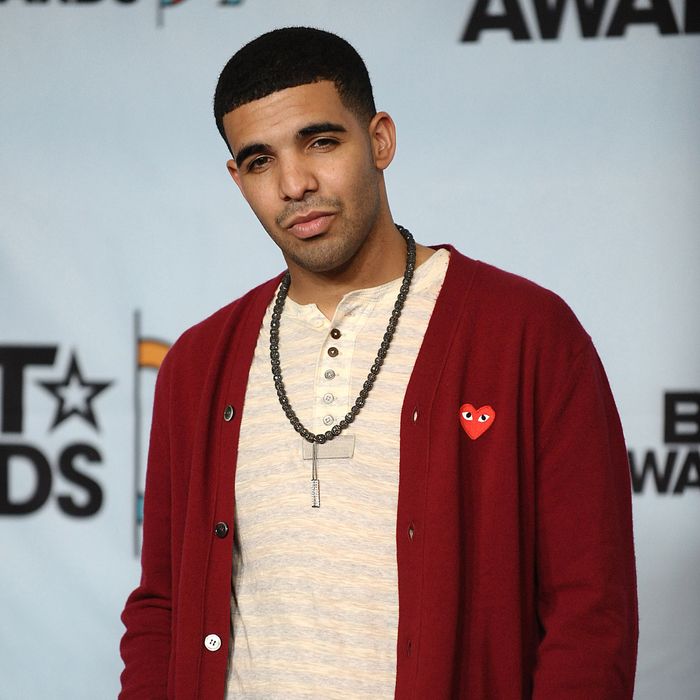 Drake: free drinks rule.
Photo: Jason LaVeris/2009 Jason LaVeris
With 2012 already off to a fantastic start — mainly thanks to a beautiful baby named Blue Ivy — this week continued the end of year's celebratory feel as we all continue to write 2011 rather than 2012. Vince Young bought drinks for Drake and J. Cole at La Pomme, Katie Couric splashed back into the dating world at Lure Fishbar, and Kelly Clarkson laughed with Miranda Lambert over spicy tuna at Koi. All this, and more celebrity sightings, straight ahead.
Asellina: Jonathan Cheban enjoyed buffalo mozzarella, a mushroom pizza appetizer, and the veal Milanese on Tuesday evening. [Grub Street]
Cafeteria: Ethan Hawke dined with his book and no one else on Wednesday, nibbling on a spinach and goat cheese omelet in Chelsea — and he tipped $8 on a $13 tab. What a guy! [Page Six/NYP]
Koi: Kelly Clarkson and Miranda Lambert each brought some friends to dinner. The group got together and laughed as they enjoyed crispy rice and spicy tuna, which is exactly what you would imagine Kelly Clarkson, Miranda Lambert, and friends would do. [People]
La Pomme: Vince Young bought a round of drinks for Drake and J. Cole — Hennessy and Cokes, of course. [Page Six/NYP]
Lure Fishbar: Freshly single Katie Couric shook first-date nerves and joined a "mystery man" for dinner on Tuesday, her first date since splitting with her boyfriend of five years only a month ago. Coincidentally, the two sat next to Couric's colleague Dan Abrams, who did the only logical thing you do when you sit next to a co-worker on a date: throw edamame at them.[Page Six/NYP]
Michael's: George Lucas had lunch with Francis Ford Coppola on Tuesday, and a few tables over sat Captain Chesley "Sully" Sullenberger. Imagine that conversation. [Page Six/NYP]
Recette: Ivanka Trump and husband Jared Kushner celebrated Kushner's birthday at a reclusive, cozy table in the West Village on Tuesday, munching on hamachi with uni, fluke with shellfish congee, and, of course, some s'mores. [Page Six/NYP]