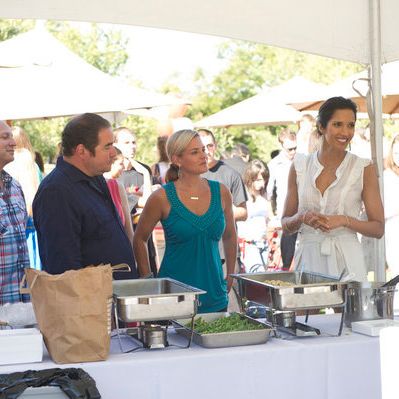 Cat Cora came for the party.
Photo: Virginia Sherwood/Bravo
You know how the judges on Top Chef are always stressing that each challenge gets judged separately, and you can't think about a chef's past work? Well, Lindsay missed that memo, because at the start of this week's episode she was still complaining about Restaurant Wars. Padma was also still wearing a terrible outfit, so apparently we just can't forget about things gone wrong this season.
This week's Quickfire was the traditional mise en place race that happens every season (though usually earlier on). Padma teamed up Grayson and Chris, Lindsay and Sarah, and Ed and Paul to peel and devein two pounds of shrimp, shuck a crate of corn, and make two pounds of fettuccine, and then cook them, in 40 minutes. The fact that they all accomplished it in time (though Paul and Ed forgot to put their shrimp on the plate) was a testament to the fact that these people really are quite talented cooks. And we'll grant them, it's not their fault that Bravo decided to drag this season out until the end of time. Anyway, Grayson and Chris won for their fettuccine with toasted corn, oil-poached shrimp, and deep-fried bacon, and got $10,000 to spend on cute outfits for Chris's cute baby.
In a twist that was so un-shocking it seems odd to even call it a twist, everyone's teammate then became his or her opponent for the elimination challenge. Each pair was tasked with making different versions of the same dish (their choice) for 200 people for a block party to support the food bank of San Antonio. Ed and Paul chose Korean barbecue, Sarah and Linds went with meatballs, and Grayson and Chris picked chicken-salad sandwiches. Then Padma threw in another "twist": All the dishes had to be healthy. Ed wasn't fazed a bit, remarking that "all Asian food is healthy." O rly?
It's pretty clear that at this point even the show's editors aren't sure why they're bothering with the shopping montage (this week at Central Market, not Whole Foods; WTF, product placement?). This week's included but a mere multi-second shot of the sign telling you what's in the aisle. Hours of footage, and that's what they chose. Once in the kitchens, about half the chefs had a chat about not really knowing what a block party was, having never been to one. How is that possible? We grew up in city limits and attended many. Not that it mattered, because the event was technically a picnic in a park and not a party on a block.
We were pleased with Top Chef when they took the time before showing the event to talk about the importance of ending hunger and helping out food banks. We really, really hope Bravo and named-a-million-times sponsor Healthy Choice donated a significant amount to San Antonio's food bank and didn't just make the guests do it. Food banks really do need help! Go donate to your local one, please! [End PSA]
We also hope that Bravo had a lot of EpiPens around because of all the bees swarming the event, considering every child these days appears to be severely allergic to everything. Which brings up another question: Why on earth did they do so many outdoor events in Texas in the summer? No one spends time outside in climates like Texas's in the summer if there's not a pool involved.
Despite all this, everyone managed to serve their dishes without too many hitches. Paul made turkey kalbi and eggplant in a lettuce wrap with white peach kimchee, while Ed served an open-face kalbi with homemade buns and kimchee chipotle purée. Grayson's chicken-salad sandwich came with arugula, pickled red onion, and a watermelon-and-feta salad, while Chris's had tofu "mayo," red lettuce, and a watermelon salad with pineapple ice. Sarah used turkey meat in her Calabrese meatballs (paired with summer vegetable salad), and Lindsay used lean veal and lamb in her Greek-style meatballs with lemon yogurt and quinoa salad.
The picnicgoers named Paul, Lindsay, and Grayson's dishes their favorites in each category, though Tom wanted to know how Grayson thought she could possibly win a round of Top Chef with a chicken-salad sandwich. We happen to think mayo is gross, so touché, Tom. The judges thought Paul's dish was the healthiest and most flavorful, and awarded him the win. He's the least-unlikable of this batch, so go Team Paul? Chris then proved that the only thing the judges hate as much as underseasoned food is dry food (he let his sandwiches sit out rather than serving them to order), and got sent home. Farewell, scrunchies!
Next week: Pee-wee Herman oh my God. Riding bikes! Pee-wee. Are the chefs being delivery people?! Pee-wee. Gail is back! Pee-wee oh Lord what is even happening?