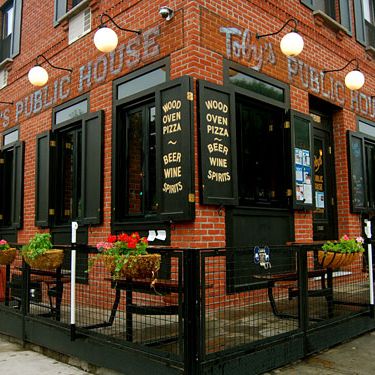 Toby's having problems.
Photo: Patrick Siggins
The Kenmare Street offshoot of Toby's Public House in Brooklyn, which is still under construction, has been hit by vandals opposed to any liquor license at the soon-to-open spot, says owner Christine Iu, who lives a block away. Iu gave a harrowing account to Community Board 2 about unidentified perps who had scrawled "no bars" on the sidewalk shed of her establishment (once home to the Village Tart) and had also splattered white latex paint across the main entrance.
"I reported this [last incident] to the police," Iu told the board, which subsequently rejected her bid for a beer and wine license in a bloc vote that supported resolutions by its SLA committee. Iu also claimed that her British fiancé, who lives with her and their two young children, has been regularly accosted by folks in the neighborhood complaining about her intentions. "I'm concerned not just for myself, but for my kids, my future, my dog, and my fiancé," she said. "It's just not right. It must stop."
Iu's bid for a full liquor license was previously turned down by CB2 after angry protests from residents. She told Grub Street that she would consult with her lawyer before taking her case to the State Liquor Authority, but remains determined to open in a couple of weeks even though the atmosphere has been "intimidating and threatening. We'll have good food, good service. And I'll have my hand extended."