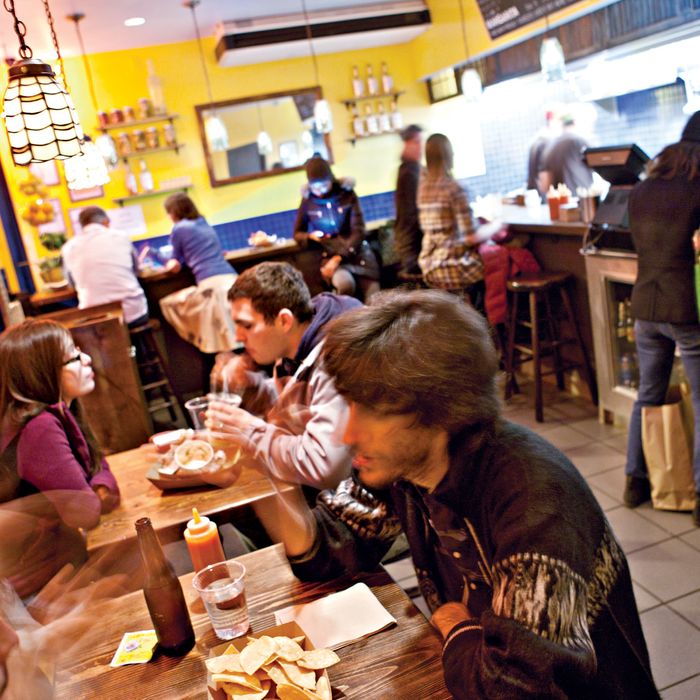 Güeros Brooklyn.
Photo: Danny Kim
In this week's New York, the Underground Gourmet takes on the breakfast taco trend, noting that the food in question, native to central Texas, is "compact, streamlined, and understuffed, a svelte snack compared with the breakfast-­burrito behemoths that have, until now, dominated morning menus up north." The team visits two new purveyors of the morning snack, Güeros Brooklyn, where the breakfast tacos "are relatively dainty and extremely addictive," and Whirlybird, "a serious coffee bar that doubles as a record-label gallery," oh, and that serves the morning tacos, as well. At the latter they observe, "This might not be the breakfast taco of a homesick Texan's dreams, but it is a thing of slightly sweet, abundantly spiced beauty." Both restaurants receive three stars.
Speaking of Texan homesickness, Goat Town's Monday-night lineup might make a Lone Star native bawl, y'all. There's "sopa de lima, barbacoa salad, cheese enchiladas, deep-fried 'puffy tacos,' and house-smoked goat meat on Texas toast" from San Antonio–native chef Julie Farias.
Rob Patronite and Robin Raisfeld also consider the Bintje potato, a "tiny, smooth-skinned, yellow-fleshed" tuber "developed a century ago by a Dutch botanist-schoolteacher who named it for a star pupil." It's ideal for frying, and pan-frying works, too, as in this recipe for pan-fried mashed potatoes from St. Anselm chef Yvon de Tassigny.
The Robs also bring news of several exciting openings, including a takeout place from the Smile team, a wine-bar offshoot of Earl's Beer & Cheese, and 606 R & D, from some City Bakery alums.