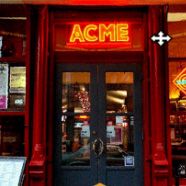 Sorry, kids, no grinding here.
Photo: Acme Bar & Grill
When Grub Street heard that the new Acme, which launches any day now, was going to have a dance club downstairs, it didn't sit quite right. So we had to ask them if the disco-cheese rumors were indeed true. "The downstairs will 100 percent not be a dance club. We have NO idea where anyone got that," a manager tells Grub. "Downstairs will have cocktails and a bar, and you can have parties there, but to be compared to Kenmare or Merkato 55 was pretty grating." Consider the record set straight … just don't shake your ass to it.