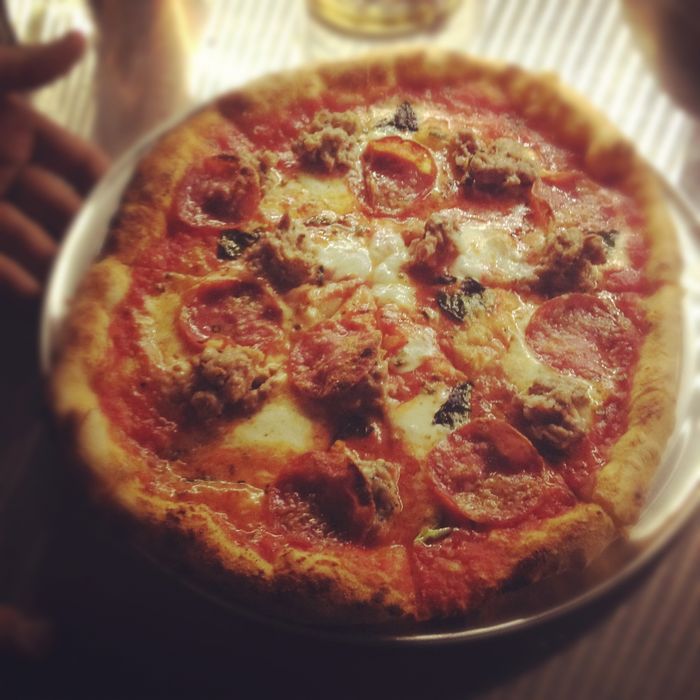 Another pizza place enters the fray.
Photo: Linnea Covington
Next Wednesday, chef Justin Bazdarich and partner Todd Feldman — whose homemade mozzarella was a hit at Brooklyn Flea and Smorgasburg this past summer — will open their brick-and-mortar venture, Speedy Romeo, in Clinton Hill. In addition to the mozzarella, expect seasonal pizzas and Italian-inspired entrees cooked in the wood-burning oven. Bazdarich, who's done kitchen stints at Jean Georges and Perry Street, says the goal is to serve "every food that customers will crave."

The final menu is still being worked out, but look for dishes like grilled half-chicken, strip steak with salsa verde, and grilled chicken Parmesan. As for pizza toppings, some combos that will definitely make an appearance are wild-mushroom with mozzarella and egg, potato-lardo, and their specialty Saint Louie, which is topped with Provel cheese, housemade sausage, and salami.
As for the name, the duo says the Romeo portion reflects the restaurant's Italian slant and Speedy reflects the roots of the building, which used to house an auto body shop. (The façade sports dozens of automobile logos.) Despite the nods to the space's past, the team completely gutted the interior and hired Hecho Design to put the space together — check out the full build-out in our slideshow.
Prices run from $9 to $16 for the pizzas and entrees, $6 to $12 for wine and beer; appetizers are in the $8 range. Hours are Tuesday through Sunday, 5 p.m. to 1 a.m.
Speedy Romeo, 376 Classon Ave., nr. Greene Ave., Clinton Hill; 718-230-0061