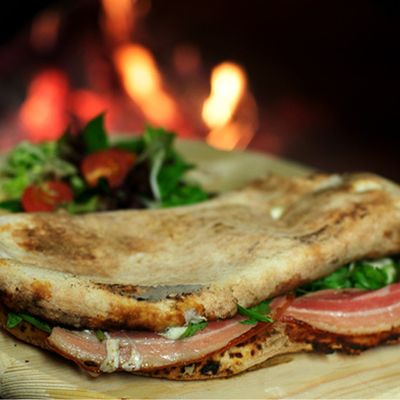 Even more difficult to resist after several drinks.
Photo: Courtesy San Matteo
The panuozzo sandwiches at San Matteo Pizza and Espresso Bar uptown got a rave in these pages, and now Grub learns the "supersize panin[i] of sorts" are headed downtown. Owner Fabio Casella tells us the team is planning a sandwiches-only spot, San Matteo Panuozzo, for 121 St. Marks Place, near Avenue A. The counter-seat shop should open sometime next month, and will stay open till 2 a.m. for hungry bargoers. "We want to introduce the panuozzo to young crowds," Cassella told us, mentioning that the lineup of sandwiches will stay pretty much the same as on the current UES menu. A beer-and-wine license is in the works, and come summer, look for housemade gelato. And that's not the only San Matteo news: We also hear the team is scouting locations for a second full restaurant on the Upper West Side. Get ready for a panuozzo takeover.