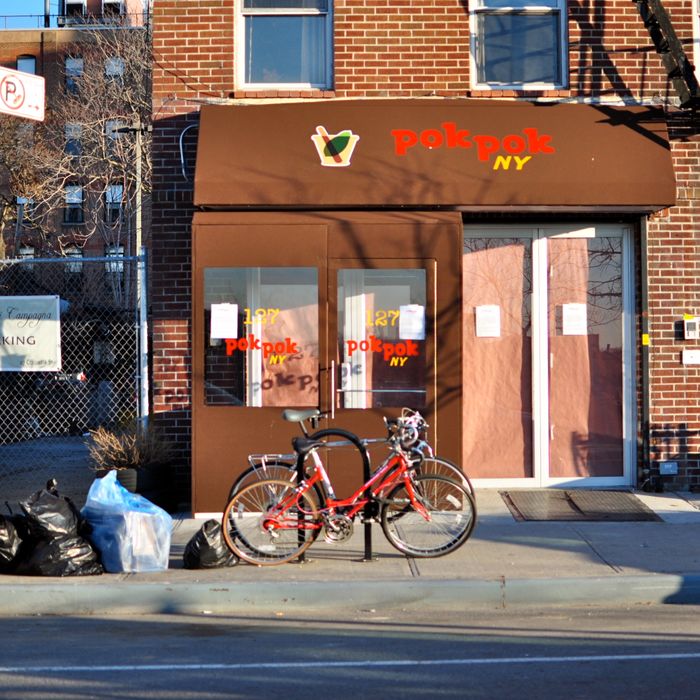 Out with the old, in with the Pok Pok.
Photo: Hugh Merwin
The very-much-anticipated NYC expansion of Portland's Pok Pok continues today with the installation of new signage onto the old 5 Burro space on Columbia Street in Brooklyn. Andy Ricker, Pok Pok's chef and owner, has left a note addressed to the sleepy Columbia waterfront community that starts off with a cheerful "howdy, neighbors," and ends with a brief explanation of what kind of food Pok Pok Ny will serve. ("Ny" is a double entendre, we noted a while back, referring to a Thai phrase for "in the city," and of course, our city.) Ricker will also be going up before Community Board 6 tonight to discuss the Brooklyn restaurant's on-premises liquor license application.
Meanwhile, sources say Ricker's other new restaurant, Pok Pok Wing, which you'll recall has just been blessed by Thai monks, could be officially open as early as tonight.
If all of this is making you hungry, do not despair and instead head on over to Bon Appétit to check out their primer on home-style Thai food, which is compiled by none other than … Andy Ricker. Dude's everywhere.
Andy Ricker Thinks It's Time You Learned to Cook Amazing Thai Food (and We Agree) [BA]
Earlier: Fear Not, Pok Pok Wing Has Been Blessed by Thai Monks