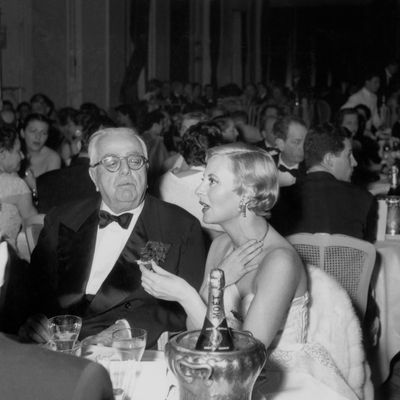 Rich people, eating richly.
Photo: RDA/Getty Images
New York City is full of extravagantly expensive restaurants, places like Per Se and Le Bernardin, where dinner for two costs hundreds of dollars and a bottle of wine can fetch more money than the average American household makes in a week. Given the amount of cash it takes to eat at such places, it stands to reason that they're all full of rich people, right? Actually, it turns out that's not really the case. In fact, the city's most expensive restaurants are far more egalitarian than you might think, which also might be the reason why they're so good in the first place.
Here's how we know: The good people at Bundle — a company I've talked about before, with access to an anonymized database of credit- and debit-card spending data — decided to identify the city's luxury spenders by looking at where people shopped. They put together a list of high-end shopping destinations — Barneys, Bergdorf Goodman, Harry Winston, ABC Carpet, you get the idea — and then identified the New Yorkers who shopped at those places on a regular basis. It might not be an ironclad way to track the city's highest earners' every move, but conveniently, those New Yorkers whom Bundle identified as luxury spenders constitute just under one percent of people in the entire Bundle data set (although of course they account for much more than one percent of all spending).
Once they identified those one percenters, Bundle's team created a kind of league table of restaurants with the highest percentage of those high-spending customers. All of a sudden, we're able to see which restaurants have the highest percentage of rich people. The most relevant results are mapped below: Blue tabs indicate restaurants where 6 to 15 percent of the clientele are luxury diners; red tabs are more than 15 percent:
At the very top of the list is Eli Zabar's Vinegar Factory — grocery shopping for the Cartier crowd. Fully 34 percent of the people buying there are luxury spenders. Right on its heel is Sushi Hana Delivery on 78th Street and Second Avenue — the place that the rich call when they don't want to actually go out to eat — with 32 percent. And in third place, with 27 percent, is Sant Ambroeus on Madison Avenue — a lovely place to sip a $20 glass of Chardonnay during afternoon tea, while picking at a $22 arugula salad.
In fact, all of the places whose clientele consists of more than 15 percent luxury spenders are on the Upper East Side, and all are low-key places like Mezzaluna and Bar Italia — not to mention a surprisingly large number of neighborhood sushi spots.
It's interesting that no Tribeca restaurants show up here, but while Tribeca is the richest NYC neighborhood per capita, the Upper East Side still has bigger wealth concentration (check out this helpful wealth map to see a full geographic breakdown of the city's household median incomes).
Perhaps even more interesting is the fact that the percentage of luxury diners at the city's super high-end restaurants don't even come close to ranking among the top. For instance, just 3 percent of Per Se's clientele comes from the luxury crowd; Eleven Madison Park is at 2 percent. Even Le Bernardin, pretty conveniently located on 51st Street, gets only one percent of its customer base from the one percent of luxury spenders. (I guess it's on the wrong side of Fifth Avenue.)
Head to downtown's most popular "expensive" restaurants and the numbers are even lower: Babbo, Momofuku Ko, Blue Hill — all get about 2 percent of their business from the luxury spenders. Jewel Bako and Hearth: one percent.
What's going on here? Well, one obvious explanation is that the kind of people who shop at Bergdorf are social X-Rays who think of Momofuku Ko's tasting menu as more of a challenge than a pleasure. And the rich, even more than the rest of us, place a high value on convenience. If you're not budget-constrained when it comes to restaurants, then, sure, sometimes you'll go out for a special occasion. But more often, you'll meet a fellow Upper East Sider for lunch or for dinner, and you'll go somewhere mutually convenient rather than schlep somewhere noisy and trendy and well reviewed downtown or (heaven forfend!) in Brooklyn or Queens. Proximity trumps quality, even when you have a car and driver.
But even Sfoglia, the sole "trendy" Upper East Side restaurant that pops up in Bundle's list, has one of the lowest percentages of luxury clients. So the question then arises: Why don't ambitious restaurateurs follow the money and open interesting new places where the free-spending rich people are? In a free market, wouldn't good food drive out the subpar?
Part of the reason it doesn't work that way is that diners downtown, or in Brooklyn, have become accustomed to cutting-edge food. Just as New York has districts for garments and flowers, downtown Manhattan is the established place to go for interesting food; the Upper East side, the opposite.
This creates a self-fulfilling prophecy for restaurants: Momofuku Ssam Bar on lower Second Avenue is a roaring success; open the same concept 60 blocks north and you'd probably fail miserably. Gourmands and food writers naturally flock to the new and interesting, but the rich tend to be neither gourmands nor food writers. (It goes without saying that food writers tend not to be rich, too.)
Reinforcing that theory is the fact that for the rich, the combination of high prices and unadventurous food acts as a sort of invisible velvet rope. Besides being handily located on the Upper East Side, a restaurant like Nello can charge $26 for mediocre beet salad, or $40 for a plate of uninspired mushroom risotto, because to its customers, the money matters as little as the actual food does. But the 99 percent won't go there, because when they do splurge on food, they want an adventure to remember.
When diners do spend hundreds of dollars on dinner at a restaurant in the East Village (maybe after waiting in line, since no reservations are accepted), this data shows us it's likely a significant investment. And the only way a restaurant will keep customers like that coming back is to offer them an exceptional experience with cutting-edge food.
In other words, restaurants downtown that cater to a slightly less well-heeled crowd have to be more interesting than restaurants uptown in order to attract new customers and convert them into regulars. Meanwhile, the one percenters on the Upper East Side are probably perfectly happy when their restaurants aren't a destination for New York's culinarily adventurous masses.
Earlier: Gastronomics: Exactly How Much Do People Spend at New York's Top Restaurants?