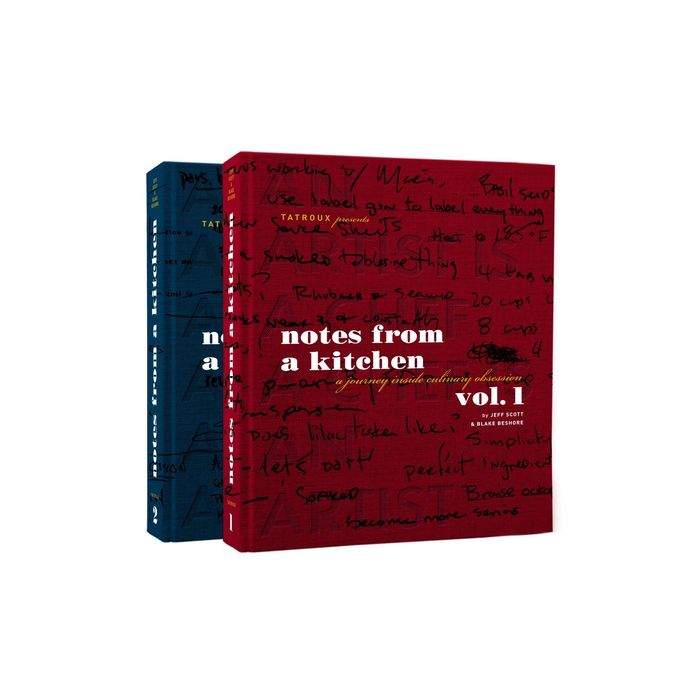 These puppies double as a biceps workout.
Photo: Courtesy Tatroux
It's no secret that chefs are driven, obsessive sorts — why else would they do things like hurl lobsters or rant about blogs in public forums? And we as diners reap the literal fruits of this single-mindedness every time we pick up a fork at a finer restaurant. Well, now a newish book, Notes From a Kitchen: A Journey Inside Culinary Obsession, has put together a two-volume tribute to the particular edible obsessions of chefs like George Mendes, Sean Brock, Johnny Iuzzini, Emma Hearst, and others. Equal parts cookbook and scrapbook, the tomes contain recipes scrawled in the chefs' own hand, candid photos of the toques behind the stove or otherwise engaged (Iuzzini on a motorcycle, anyone?), handwritten lists of ingredients, or random things like a list of other chefs to research. And Grub Street has a copy to give away to one lucky reader.
Since the books concern culinary obsession, we want you to tell us the following in the comments below: What's the one meal or dish you've prepared that best demonstrated your own culinary passion? It could be a dinner for someone special, a marathon barbecue session, or … anything, really. Impress us below in the comments by 5 p.m. EST this Friday, January 13, and you could win the books. (Click here for complete contest rules.)
Update: Thanks to everyone who left a comment. We will be announcing our winner very soon.