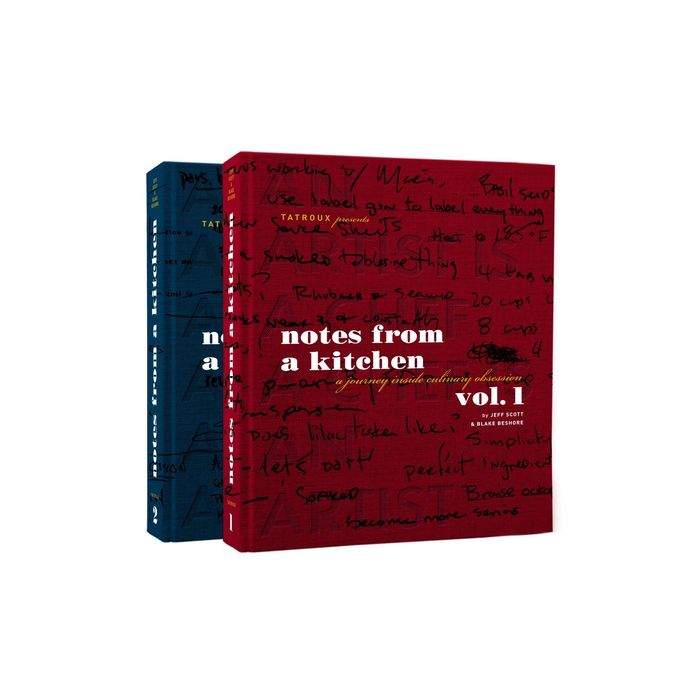 En route to commenter NBurger79.
Photo: Courtesy Tatroux
Last week we invited readers to compete for a two-volume set of Notes From a Kitchen by telling us about a dish or meal that demonstrated their culinary passion — and we couldn't have been more pleased with the responses. You recounted tales of weekend-long barbecue marathons, elaborate romantic meals, holiday feasts complete with menus, and a cheese-straw quest that became an obsession. But the entry that most captured our imaginations (and tear ducts) came from commenter NBurger79, who recounted a story of working tirelessly to perfect his Sicilian-born grandmother's ricotta pie recipe, in order to serve it to her one last time. The full (moving) comment is reproduced below.
When I was young I would spend every Sunday at my grandmothers house. She came to Chicago from Sicily with my grandfather who had died when I was very young. I looked forward to every Sunday as much as she did, not only to see her, but for her amazing cooking. Everything from homemade gnocchi to braciole filled the air those Sundays, but what I really looked forward to was her Ricotta Pie. It was so different from anything else my mother would ever make, the sweetness of the pie, the crunch of the crust, the texture of the ricotta, all of it stirred my soul all week waiting for the next Sunday. A few years ago my grandmother was stricken with Alzheimers and could no longer take care of her herself, so we had no choice but to put her in a home. I still went to visit her every Sunday even though it got to a point where she did not know who I was and she could barely make out words. But one Sunday, Ill never forget, she turned to me out of the blue, in perfect clarity, looked at me and said, "Neil, I would love a Ricotta Pie one last time." The next day I found the recipe and spent the entire week trying to perfect it. I spent four days obsessively trying to get mine to taste like hers but I could never seem to get it right. Either the texture was off one time, or the next the flavor wasnt right. It was a simple recipe but there was something missing I couldn't figure out. I made about 12 pies and nothing was ever good enough, until finally I figured out the right ratio of vanilla to cinammon and the right temp to and time to cook. That Sunday morning I went to visit my grandmother and as usual as I came in she didnt recognize me and couldnt make out the words to say hello. I sat with her for a bit and updated her on my week, then I broke out the pie. Still, she didnt seem to notice so I cut her a piece and fed her a bite. Without saying anything she broke into tears, looked at me, and said, "you made my pie" Those four words are etched into me now, and are the reason I love to cook. Thanks Gram.
NBurger79 will receive a copy of Notes From a Kitchen in the mail. When we reached out to tell him of his win, he had this to say: "Not only did she inspire my passion for cooking, I am a professional food photographer as well thanks to her. I owe her a lot, and winning with her story is very special to me, thank you so much." Awww.