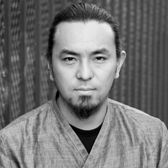 Chef Noriyuki Sugie.
Photo: Courtesy of Nombe
Mari Takahashi and Gil Payne, the co-owners of the Mission's neighborhood izakaya, Nombe, are stepping up their ramen game by bringing in a new chef, Noriyuki Sugie. Previously Sugie ran an incredibly popular ramen pop-up at LA's Breadbar. Now the chef will bring his decadent, sought-after beef tongue, short rib, and oxtail ramen to San Francisco. Next Tuesday, January 10th, the restaurant will launch a Tuesday through Friday lunch service that features Sugie's special ramen menu.
Sugie will also add new items to the dinner menu and in February, the chef will debut an entirely new nighttime menu. Sugie has more than 20 years of culinary experience under his belt and is the creator of a Japanese-inspired ceramic line and a culinary brand called Iron Nori.
Earlier: Foie Gras Ramen and Pig's Feet Gyoza Popping Up at BreadBar