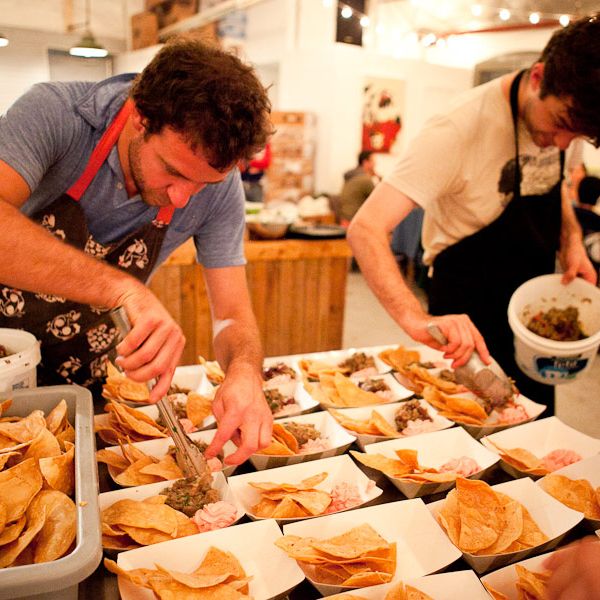 Dufour, with nachos, last year.
Photo: Hugue Galdones/Galdones Photography
While one postmodern diner is set to open this weekend, M. Wells is beginning the process of resurrection. Part of those new plans apparently involve Mastercard, too: Yesterday, team M. Wells dropped a Facebook link to a special, Mastercard-sponsored M. Wells 2.0 preview brunch to be held next Sunday at MoMA P.S. 1, where Dufour and partner Sarah Obraitis will soon operate the museum's cafeteria. Needless to say, the $75-per-head event sold out very quickly, but don't worry, there's also a heaping portion of M. Wells news just ahead for your delectation.
You may recall rumors about the team's MoMA P.S. 1 plans started pretty much immediately after Obaitis and Dufour announced they were closing their diner. You might also recall that when Dufour confirmed the move to the Canadian publication Canoe last October, he also disclosed some more ambitious, long-term plans. M. Wells would open a second restaurant and build a catamaran, he said, which would eventually take to the water and serve food. "The idea is to build the boat in a large hangar," said Dufour, "where people could come and eat around the boat at various stages of construction."
So now, during a CBC radio story broadcast over the weekend, Dufour calls the MoMA P.S. 1 cafeteria "a very beautiful space," adding that because they're largely without gas service at the new location, M. Wells at P.S. 1 will cook most of the menu sous vide. "We'll serve things in bags," he tells a Canadian Broadcasting Corporation program, with "bento boxes you can stack up and build your own meals."
But there's more: "We want to do a roe bar," he says in the interview (M. Wells reboot talk starts at around the 6:18 mark), "not a raw bar." What's a roe bar? It's "when you have all sorts of caviars and urchin," Dufour says, adding he wanted "to do some sort of sushi counter without any pretension of being Japanese." The new M. Wells will be "playful, in the image of the museum," and is set to open at the end of February.
And about that catamaran? Dufour says that when M. Wells closed last summer, he and Obaitis fielded "many great offers," and that the steakhouse and catamaran combo was just too good to pass up. Dufour says he considers the catamaran as feminine, so he "wanted something really masculine" to complement it, "almost like a men's club." Hence the plans for a steakhouse, which include renovating a large industrial garage (maybe this one) and building the 64-foot boat inside, essentially in view of diners, over the course of a few years. "Isn't that going to be a distraction from the food?" asks the Cinq a Six interviewer. "Yes, I hope it is," says Dufour. "I don't want people to be too anal. In life you eat: you have dinner, and after that you have a snack. The next days you're going to have breakfast. You eat all the time," he says. "To build a boat while you're creating menus, I think that's beautiful."
Chef Hugue Dufour and the future of M. Wells [CBC]
Earlier: M. Wells Is Headed to P.S. 1 — and to a Boat?