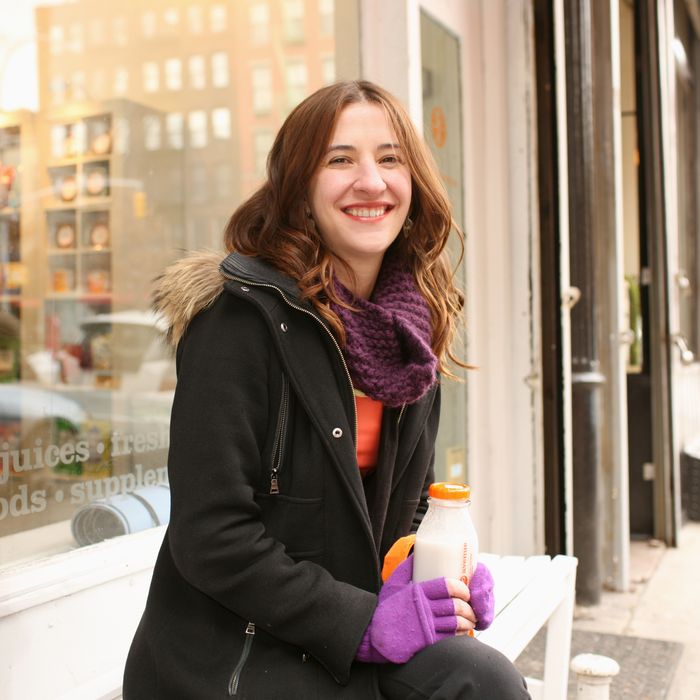 Cheers to juices and family meals for getting her through the day.
Photo: Melissa Hom
Laura Maniec is one of eighteen female master sommeliers in the world, and the only one in New York. So what? So this: She can walk past any glass of wine and smell Swedish Fish, red lipstick, or old dirt; she can tell you its grape, vineyard, vintage, and the name of the farmer who harvested it; and then she can make you, the wino-impaired, feel like you figured it out all by yourself. Salute! In opening her first wine bar/lab/classroom, Corkbuzz Wine Studio, Maniec hasn't had much time eat well, even drinking some meals on the go (juices, not booze!), but she's trying to get back on track. Read about her "well-deserved" late nights and date nights in this week's New York Diet.
Friday, January 13
I've always tried to always eat well, but since opening Corkbuzz, I sometimes struggle maintaining that. Good news is, I'm happier these days than I have ever been. My day always starts with coffee from Joe the Art of Coffee. I get Mexico coffee with milk and two brown sugars. At home, I had granola with flax seeds and almonds and a banana at the computer.
Chef Hayan, our chef, made me an afternoon snack, which was also a bit of recipe tasting: crispy squash with kale salad, pepitas, pickled jalapeño, and crispy kale. Felt very healthy.
The family meal at 4 p.m. is where I try to consume most of my food. Señor Jose, one of our cooks, went all out Italian-style: chicken parmigiana with green salad and some toasty bread to make chicken parm sandwiches. I have a little of that. It's hard, I'm running around so much. I have to make a real point to sit down and enjoy food again.
Around 10 p.m., thinking that I have earned it, I stop by DBGB with a friend for beers and burgers. Had the rillett de jamboneau provençal first, and then the Yankee burger with Vermont Cheddar with Westmalle Dubbel Trappist beer — it's made by monks, a dark beer.
Saturday, January 14
My usual coffee, grapefruit juice, and a turkey and egg white wrap with cheese at home in Fort Greene, Brooklyn.
I dashed to work to teach "Who's Who of Italian Wine" at 2 p.m. My lunch consists of a little Mascarello Barolo and Montervertine and some Occhipinti Bianco. I never eat during tastings. I'm just not comfortable teaching about wine and chowing down at the same time.
Family meal is a big green salad and homemade tomato soup.
At eleven, I started my date night with Rob at his house. Chef sent me home with some mushroom papardelle, a hunk of L'Etivaz cheese, and a hunk of bread. We sat on the couch and watched TV and drank beer.
Sunday, January 15
Started the day at Bikram yoga to get some much needed exercise. Coffee came later, as did banana and toast with goat milk butter and some jam.
I couldn't watch the Giants game because I was working, of course, but that doesn't mean I didn't eat like I was watching football. Chef made wings and chili for lunch with blue cheese dressing.
My dear friend, Pascaline Lepeltier from Rouge Tomate, had her birthday party with us, so I joined in. Chef made some great canapés including grilled beef with pickled carrots, shrimp skewers, baked clams, and mushroom tarts. We also had a big cheese and charcuterie plate. I ate well, and dug back into the wings and chili before leaving for the night.
Monday, January 16
Had my coffee but skipped breakfast to go for a run. I know, I know, it's bad for me, but so is not running.
Quick dash to Organic Avenue for pear juice and coconut milk. Smoothies have been my saviors during this busy time. But then Jae from Bak — a Korean restaurant next door — came to the rescue with a bowl of dubu kimchee, which is sauteed, spicy-marinated sliced tender pork and kimchee served with tofu. It was super cold out and I needed it.
I hosted a "Pairing with Sauces and Spices" class with excellent food but again, I didn't get to eat much. When you're around great food all the time, sometimes you just want the opposite. Like, sometimes we make these pizza bites from Costco that my aunt brought over, and we keep in the freezer. We do the pizza-bite dance; they make us so happy.
Tuesday, January 17
Went back to Organic Avenue for their Green Love juice before rushing to City Winery for the Terry Thiese tasting. The room is filled with over 100 wines, and our server Matt and I needed to power taste. We're looking for some new German and Austrian wines, and couldn't leave without tasting the sherries.
Fatigued and needing food, I had lunch at Torrisi — a turkey sandwich and spicy broccoli rabe. That helped me feel back to my old self.
Despite the great meal, mid-afternoon tiredness hit me again and I snuck a Red Bull. I'm not supposed to have it. My sommelier, Morgan, yells at me. But it gives me wings! He says it smells like Skittles and will rot my tongue, but dude, I need one once a week.
Had a late-night dinner at Tertulia with my colleague, Karina. Her favorite thing in the world is jamon iberico, so we had that along with the cojundo revisited and arroz a la plancha. We drank lanzarote bianco because we were feeling the Canary Islands.
Wednesday, January 17
Ate yogurt, granola, and a banana with Joe the Art of Coffee's coffee, than went off to the New York Times for a tasting panel. I snacked on some grilled chicken with salad there.
Our family meal was Italian wedding soup, spicy style. I downed some.
Sometimes you just need to go out and drink wine with friends, having nothing to do with the job, so I forced myself to leave at 10 p.m. to catch up with my dear friend Sarah, and Belinda Chang. We had one of the best meals I have had in months at Jungsik. It was a five-course tasting menu including the mushroom, miyeok — which chef Hayan says is called birthday soup — Tribeca lobster, and the five senses pork belly. I can't tell you how happy I was.